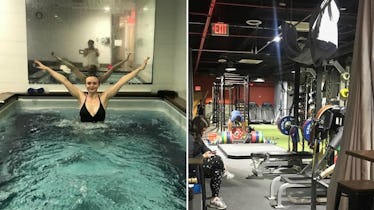 I Tried An App That Lets You Pay By The Hour For The Gym & Here's How It Went
Annakeara Stinson
Committing to a gym can be a bit intimidating, especially if you're the type of person who likes to try a lot of new things. Take me, for example: I love trying different workout classes, and while sometimes I just do a bit of yoga at home, other times, I'll want to run on the treadmill, or even go for a swim. My budget doesn't exactly support a New York City gym membership with such a huge variety of amenities, but the good news is there is, indeed, an app for that. I tried the POPiN app, and if you, much like myself, are desperately trying to navigate the expensive world of fitness in Manhattan, I highly recommend you download this ASAP.
Basically, the POPiN app works like this: After you download it, you make a profile, put in your payment information, and you can visit 13 different locations across Manhattan and Brooklyn. You pay by the minute or by the hour (ranging from $8.40 an hour to $15.60), and you get to spend any amount of time you'd like in a variety of unique workout locations, with no commitment necessary.
In an exclusive interview with Elite Daily, POPiN CEO and co-founder Dalton Han says that, initially, he actually came up with the idea for the app "out of a personal need for the product."
While working as a consultant, Han says he found himself "with a nomadic work lifestyle," which made it hard to commit to going to just one gym.
"I'm also a bit of a globetrotter," he explains. "Travel is a huge part of my life, which meant there were a lot of months I wasn't home nearly enough to justify a gym membership." Indeed, if you travel or find yourself in the midst of non-stop projects, any kind of commitment in your hometown fitness facility can prove to be a bit of a money-suck.
After struggling with this issue in his personal life, Han quickly realized he wasn't alone in his frustrations. Many people want more flexibility and variety in their workout routines. Plus, Han explains, developing the app was partly a response to an emerging fitness trend. "Millennials strongly prefer on demand and à la carte solutions," he tells Elite Daily. He also noticed that the gyms themselves were experiencing some issues: "It was becoming difficult for smaller gyms to keep up with the large chains."
And that's where POPiN comes in. Han says the app solves these problems by "bringing an awareness to smaller [gyms], and an additional source of revenue."
As for my POPiN experience? I tried two gyms available on the app.
First stop: Mercedes Club in Manhattan with my friend, Syd. Yes, it was fancy and expensive, just like the car for which the fitness center is named.
At $15.60 an hour, this was the most expensive gym of the bunch. Mercedes Club had plenty of nice amenities, including an indoor and outdoor pool, a steam room, and a sauna, as well as a spa area where you could go grab an after-workout massage if you felt like it.
There's Syd, looking as cool as ever in the Mercedes Club indoor pool. We did laps together, then relaxed for a bit in the sauna.
I spent about two hours (121 minutes, to be exact) at Mercedes Club, which would come out to $31.46 for the whole experience — costly, yes, but if I popped in and out a little less leisurely for a swim during a hot NYC summer, I'd consider going back.
My second POPiN location was the Brooklyn Athletic Club in Williamsburg.
Immediately, I loved this place. There were three floors in total, and I spotted a dog in in the weightlifting room, where some really hardcore music also happened to be playing in the background.
I brought my friend Cara, and we started out by going for some light jogs on the second-floor treadmills, which looked out over the street.
Then Cara and I tried out the true pièce de résistance: the wave pool. There she is, getting ready to swim like her life depends on it.
I am not joking when I say this was the most fun I've ever had in my adult life, which I expressed to Cara multiple times. We lost track of time, and by the end, I felt giggly and energized. I implore you to try a wave pool, sooner rather than later.
After having a blast in the wave pool, we took our time in the club's infrared sauna.
All in all? POP-iN was a lot of fun to experiment with, and it almost felt like mini-adventure-vacations at each stop. If you ever find yourself traveling in NYC, or even if you simply want to try out some new gyms where you live now, I would definitely suggest this very flexible opportunity to try out some cool amenities, and enjoy the opportunity to work out wherever and whenever you want.