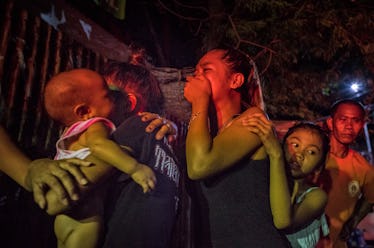 Trump Is Meeting With The Philippines President Responsible For A Horrifying Drug War
Jes Aznar/Getty Images News/Getty Images
When President Donald Trump visits the Philippines, which is the last stop of his nearly two-week trip around Asia, he will meet with the leader of a controversial drug war that has drawn negative headlines internationally. That leader is Philippine President Rodrigo Duterte, who promised an aggressive crusade against drug trafficking while he was campaigning for the office he now holds. After assuming office at the end of June 2016, Duterte fulfilled his promise for the Philippines' drug war, which has since resulted in hundreds of thousands of arrests.
The drug war can best be summarized by three key facts.
First, Duterte has said on numerous occasions that he is on a campaign to mercilessly eradicate the country of both drug traffickers and drug users. One of those occasions came right after taking the oath of office, when Duterte marked the beginning of his tenure with a speech in which he advocated for the killing of addicts.
"If you know of any addicts, go ahead and kill them yourself as getting their parents to do it would be too painful," Duterte said at the time, according to The Guardian. "These sons of whores are destroying our children. I warn you, don't go into that, even if you're a policeman, because I will really kill you."
Second, thousands of people have died as a result of the campaign, with police in the country estimating the death toll to be at around 4,000.
"I do not deny that there were people killed in that campaign," Duterte said in October, according to Reuters. "But why were they killed? Because a 'shabu' [drug] user, a lieutenant of the 'shabu' syndicate, always has a gun and this was my experience when I was mayor. They always fight it out."
Last comes the most important fact: Duterte is accused of authorizing much worse than a justified fight against crime. Human rights groups say Dutere's drug war is actually a lawless crusade that has resulted in many more deaths than the government says. That crusade has resulted in reports of brutal killings without due process, stories of merciless raids in which teens are shot and left dead by police, and photos of victims being found slaughtered with packing tape wrapped around their heads.
When Did It All Begin?
In July 2016, Duterte began his anti-drug operation, which the Filipino government formally calls Project Tokhang, according to the New York Times. In December 2016, the Times produced perhaps the most graphic account of Duterte's drug war, after photojournalist Daniel Berehulak documented 57 homicide victims in over 35 days.
According to the Times, another feature of Duterte's drug war has been door-to-door operations by police, which are meant to track down drug offenders and have resulted in crowded jails. Earlier this year, in May, the Philippines' Secretary of Foreign Affairs Alan Peter Cayetano, said those operations have yielded over a million surrenders.
"1.2 million Filipinos, who were either pushers or users, have surrendered voluntarily and close to 3,000 have been killed in presumed legitimate police operations, those are the real numbers," the secretary said.
One of the drug war's most controversial moments came in August, when one police operation resulted in the killing of a 17-year-old high school student. Police initially claimed that victim had fired at officers, but surveillance footage later showed the boy being held in a headlock by two men, contradicting the police account.
Another piece of footage showed the boy being dragged down an alleyway by officers, where they allegedly planted a gun on the teen. The case of the teen's murder seemingly captures why the Philippines drug war has been so controversial: because of events in which people in poor neighborhoods appear to be brutally targeted and executed without cause, all in the name of cracking down on crime.
Despite the negative reports, an October poll indicated that an overwhelming majority of Filipino citizens approve of Duterte's drug war, although over 70 percent of those surveyed also believe that the campaign has resulted in extrajudicial killings.