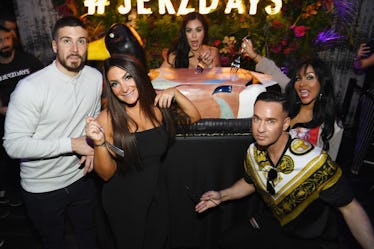 MTV Is Creating A New Show In Staten Island Based On 'Jersey Shore,' So Get Ready
Dave Kotinsky/Getty Images Entertainment/Getty Images
Thursdays recently became Jerzdays over at MTV, and the network is gearing up to take the big television night to the next level. According to Variety, the channel formerly known for playing music videos is developing a handful of new unscripted series that build on Jersey Shore's successful resurrection. One of those programs will surround a group of young people in Staten Island, which happens to be Jersey star Vinny Guadagnino's hometown. What is Staten Island 10310? The upcoming reality show could be your next MTV obsession.
Why Staten Island of all locales? "In many ways, life on the island has such a different texture than the rest of New York," MTV/VH1 president Chris McCarthy explained to Variety. "We get to see another side of these kids who are very scrappy." The mag also notes that the borough is "famously a mix of law enforcement and firefighters with those involved in less-than-legal occupations." I'm not sure how the potential addition of law enforcement will play into the cast's work/life balance (the partying could look a lot different, right?), but diving into this unique New York City region could prove to be a win in the drama department. All aboard the ferry. To Staten Island we go!
Hold up. One unforgettable MTV-er of yesteryear from the 10310 (you may recall a certain someone who referred to herself as the "Kim Kardashian of Staten Island") comes to mind immediately. Angelina Pivarnick — who appeared briefly on Jersey Shore on the first two seasons — is currently an EMT for the FDNY, so she might fit the casting bill. The reality alum is set to appear on this season of Jersey Shore Family Vacation, but is it possible MTV would employ her for another franchise? It could be valuable to have a familiar face with a Jersey past... "Forever I've wanted to help people, so I decided to go to school and do it. People really didn't have faith in me, but I proved them wrong, and now I have a career I want," the recently engaged 31-year-old explained of where she is now.
OK, maybe the inclusion of Angelina is a long shot, but perhaps Vinny can make a cameo?
MTV isn't only focusing on the tri-state area for its fresh programming slate. "What's happening in the middle of the country is so different than what's happening on the coasts," McCarthy pointed out. "We are always looking for interesting and authentic subcultures that gives us a look at youth culture in this country." That means audiences can expect to check out the shenanigans of "daredevil" buddies in Dacatur, Indiana, for Too Young to Die. Made in Kentucky will follow recent high school grads in the Bluegrass State.
But that doesn't mean there isn't more fist-pumping to look forward to. Jersey Shore Family Vacation isn't going anywhere, meatballs. The second season of the hit revival was greenlit before the show even premiered. There's no word on where filming will be and when the next installment will debut, but shooting is rumored to begin shortly. "Supposedly, it's going to be like a Housewives format, where we film three days a week and then we go about our lives and we're not sequestered in a house for a month without seeing my family," Nicole "Snooki" Polizzi revealed to E!. That structure hasn't been confirmed, although it makes sense considering the cast might not be able to go on semi-permanent vacay, given their families and commitments at home.
Staten Island 10310 won't hit TV screens until August. Until then, audiences have Jersey Shore and more MTV shows to fulfill their reality TV needs.