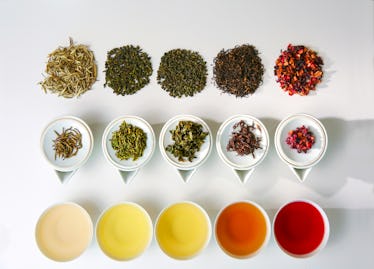 Starbucks' New Tea Is Packed With Vitamin C & Perfect For Chilly Mornings
Starbucks
Baby, it's cold outside, and it doesn't look like we're in for pleasant weather anywhere in the near future. It is prime time for a stuffy nose and scratchy throat, so you have to take precautionary measures in order to prevent a cold, starting with your morning beverage. What is Starbucks' Teavana Citrus Defender, you ask? Oh, it's just your new Medicine Ball.
Much like the beloved Secret Menu item (which isn't necessarily a secret anymore), Starbucks' Teavana Citrus Defender is the perfect way to fight the aches and pains that creep up on you during the winter. The Vitamin C-loaded bev is a mixture of Teavana Defense Wellness Tea, steamed lemonade, hot water, and honey. Not only is it a great way to keep your immune system strong, but it's a lovely combo to sip first thing in the morning.
Stifling that cough in your 9 a.m. meeting? Then this is a must. If you are looking for other ways to pack on the Vitamin C, there are also new Teavana Wellness Teas to look forward to this season, a Starbucks rep tells Elite Daily. It's time to ramp up the coziness factor into full effect.
Here are the new items you can order at Starbucks this cold and flu season.
Teavana Defense Wellness Tea: If you can't shake that "bring me the tissues and cough drops feeling," you might want to get your hands on one of these bad boys. It's a combo of Vitamin C, white tea and hints of lime, pineapple, and orange. Yes please.
Teavana Comfort Wellness Tea: Two of my favorite things — comfort and wellness — are joined by a few of my favorite flavors: ginger, lemon, spearmint, and peppermint. I just might have to get a two of these babies. Bring it on, cold and flu season.
Teavana Rev Up Wellness Tea: Staying healthy never tasted so good. This combination of black, oolong, and green teas with mango, apricot, and peach is better than that 'ol tea with honey trick.
As delightful as tea is — and as helpful it can be when you're not feeling up to snuff — sometimes you're more inclined to get coffee — and that's totally fine, too. You're actually in luck. These four drinks to order with Starbucks' Blonde Espresso are new, inviting ways to add a little spring to your step before starting your day. For the first time in more than 40 years, Starbucks will serve a new espresso option that offers a lighter taste, and it's obviously a huge change to the menu. The Blonde Espresso — which became available beginning Jan. 9 — allows customers to have variety, and the flavor is not just limited to espresso. You can try a Blonde Espresso, Blonde Cappuccino, Blonde Latte, Blonde Flat White, or a Iced Blonde Americano.
"Our partners are so passionate about their craft and now they get to help our customers discover and personalize the foundation of the beverage — an espresso that is either bold and rich or smooth and bright," Kris Engskov, president of U.S. Retail for Starbucks, said in a statement. "We want every experience our customers have with us to be perfect for them."
You better pray you don't get stuck behind me in line. Thanks to all of these new choices, I'm going to stuck at the counter for a little bit of time. The barista is definitely going to want to go on break after taking my order.
Regardless if you go with the tea or coffee, enjoy and stay warm during this chilly time of year. See you at Starbucks.
Check out the entire Gen Why series and other videos on Facebook and the Bustle app across Apple TV, Roku, and Amazon Fire TV.