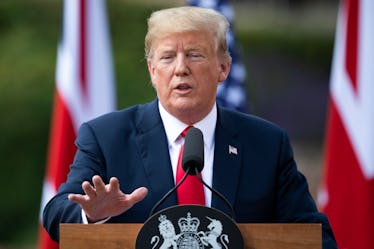 Trump Is Proposing New "Short Term" Health Plans That'll Undermine Obamacare
Dan Kitwood/Getty Images News/Getty Images
Since the start of Donald Trump's presidency, he's vowed to repeal and replace the Affordable Care Act (ACA) — also known as Obamacare — offering up short-term insurance options instead. Although he's had some failed attempts along the way, Trump took another shot at dismantling the Obama-era program on Wednesday, Aug. 1, when he finalized rules to encourage Americans to purchase cheaper and less comprehensive health plans that are designed for short-term use. So now that Obamacare is suffering another blow, you might be wondering what short term health insurance is. Here's what you guys need to know.
According to The New York Times, the new policies supported by Trump are exempt from pre-existing conditions and mandates under Obamacare. The plans allow insurers to issue short-term plans for up to 12 months at a time, up from the current limit of three, and carriers will have the option to renew them, if necessary. The maximum duration for the plans, including with any extensions, is 36 months (three years). Trump's plans are set to take effect in 60 days, however, states will be able to restrict the sale of the policies or require certain benefits at their own discretion.
Trump reportedly said he believes the new "short-term, limited duration insurance" could help millions of Americans attain affordable coverage. However, the policies are cheaper partly because they give insurers the option to refuse coverage for those with pre-existing conditions and can limit expensive services like mental health treatment or prenatal care. The plans also tend to cap coverage, so people can still end up with hefty medical bills. It's essentially like you're risking more, in return for lower prices.
"There's a real worry that consumers will believe they're buying comprehensive insurance that protects them financially from the unexpected, but then are left high and dry with medical bills," Sabrina Corlette, an insurance expert at Georgetown University and former Democratic Senate staffer, told Politico.
Human Services Secretary (HHS) Alex Azar seemed to have a solution to that, though, saying via press release, "These plans aren't for everyone." He added, "But they can provide a much more affordable option for millions of the forgotten men and women left out by the current system."
The plans had previously been intended for people who were between jobs, and had a maximum duration of up to three months. Some of the basic coverage requirements under Obamacare included doctors' services, inpatient and outpatient hospital care, prescription drug coverage, pregnancy and childbirth, mental health services, and more.
Trump and his administration have surely made their fair share of attempts to dismantle the current system of health care set by his predecessor. Back in June, the Trump administration issued rules to help small businesses and self-employed workers get cheaper health insurance which would include fewer benefits and consumer protections, which also undermined requirements of Obamacare, including coverage for maternity care, prescription drugs, and other "essential health benefits," per The Washington Post. In October 2017, Trump said he would be using the "power of the pen" to make changes to Obamacare, specifically, by ending cost-sharing subsidies (CSRs) — which are payments that helped lower-income enrollees pay for health care. And that same month, his administration rolled back the Obamacare birth control mandate for women, allowing employers to claim religious or moral objection to the regulation.
The future of Obamacare is uncertain, but with Trump's consistency in trying to get rid of it, trouble could lie ahead for the law. It's really too soon to call it, though, as anything could happen. We'll just have to stay tuned, folks.