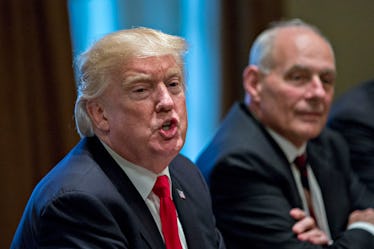 Trump Took Away Birth Control Coverage Protection & Twitter Is Pissed
Pool/Getty Images News/Getty Images
The Trump administration finally did what many women feared: They have rolled back the Affordable Care Act (ACA, aka Obamacare) birth control mandate for women. Democrats, public health groups, and women have all taken to Twitter to express just how upset they are about this decision. These tweets about Trump's birth control rule show exactly why Obamacare protection was so vital.
This news comes on Oct. 6 but rumors surrounding this decision have been swirling since May. This rollback would allow employers to claim religious or moral objection to the birth control mandate under the Affordable Care Act. This is bad news for those under the ACA who are about to re-up on their birth control because this new policy is effective immediately.
This can be a huge issue because companies who do not want to pay for birth control can just claim a religious or moral objection and leave their female employees without access to birth control.
Former Obama official and Chief Operating Officer of the United State of Women, Jordan Brooks, had this to say about the troubling decision in a statement,
Today, President Donald Trump took the first steps to gut the part of the Affordable Care Act that provides free birth control for tens of millions of women — taking us back to the days when the high cost of birth control was a barrier and burden... The United State of Women and our allies across the country won't stand for these continued attacks on women's health and American women are making their voices heard.
Others who are outraged about this news have taken to Twitter.
"BREAKING: New rule from Trump admin puts our birth control coverage at risk."
"We all deserve to have the freedom to live and plan our lives with dignity. #HandsOffMyBC"
"The Trump administration just attacked access to birth control, basic health care that the vast majority of women rely on. #HandsOffMyBC"
"Was the plan to take away birth control on anniversary of Access Hollywood tape release to underscore how creepy DJT is? #handsoffmyBC"
"Birth control is not health care alone. It's the right of women to control their bodies, plan their families, chart their futures. For many women, it is prohibitively expensive to access the best method for them. It is beyond belief that this is still up for debate. #HandsOffMyBC"
"This will harm women's health and economically disempower women, particularly low-income women and women of color. #HandsOffMyBC"
"GOP approves of Viagra, but pulls birth control coverage. Further proof Republicans don't actually know where babies come from #HandsOffMyBC"
"If only guns were as regulated as my birth control. #HandsoffmyBC"
"THIS. This has nothing to do with religion. This is about eliminating access to birth control. period. #HandsOffMyBC"
"We live in a country where politicians try to make abortion rates go down by making it harder for women to get birth control.#handsoffmyBC"
"this week 58 people died because of access to lethal weapons... but sure now is the time to debate regulating my womb #handsoffmyBC"
In response to the news, Nancy Northup, president and CEO of the Center for Reproductive Rights, said in a statement,
The Trump administration continues to display a startling disregard for the reality of women's health and lives. An employer or university can't be allowed to use religious or moral beliefs to prevent a woman from planning her future and her family. The Center for Reproductive Rights is prepared to fight these discriminatory and unconstitutional restrictions in court.
Before this decision to rollback birth control under Obamacare went into effect, 62.4 million American women counted on coverage of preventative services without copays, including birth control, according to the National Women's Law Center. Let's hope employers, universities, and insurers don't abuse this appalling new policy.