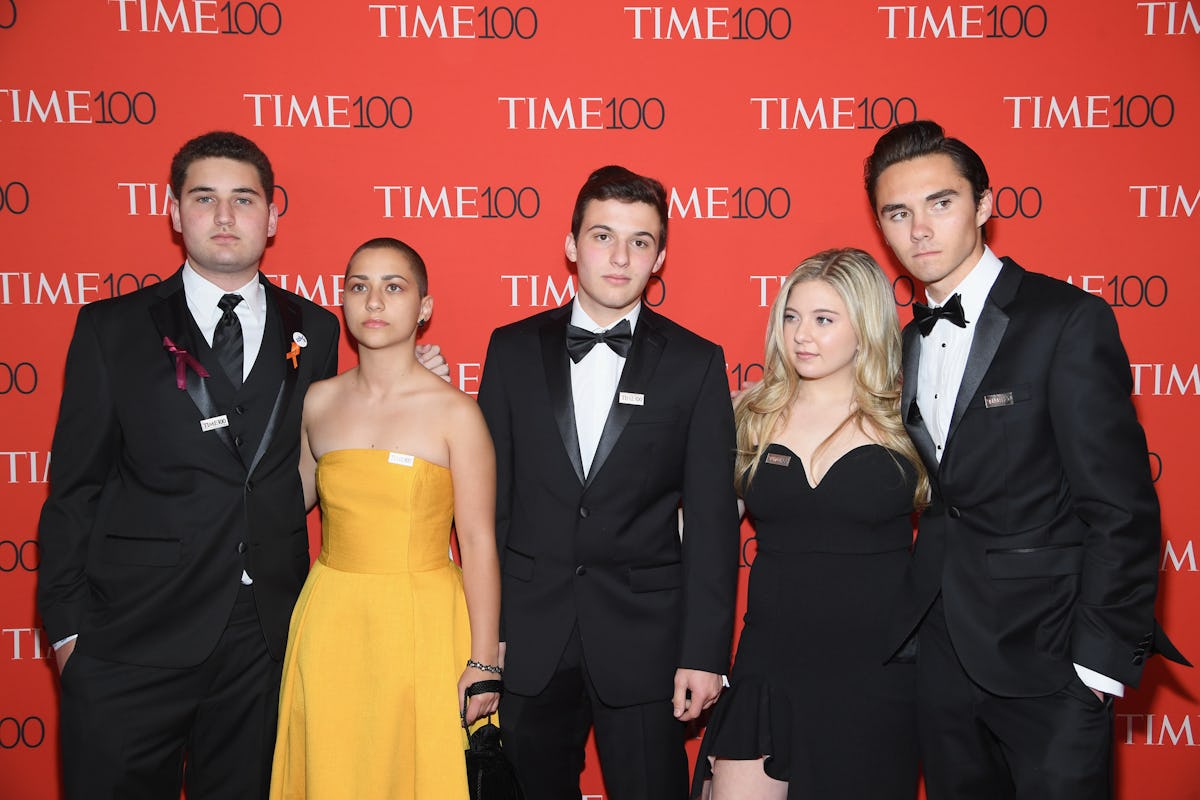 The Parkland Students Are Launching A New Campaign After The March For Our Lives
Dimitrios Kambouris/Getty Images Entertainment/Getty Images
The survivors of the February 14 shooting at Marjory Stoneman Douglas High School in Parkland, Florida, took tragedy as a call to action. Since that day, they have been working hard to advocate for gun policy reform, and they're about to take it one step further. So what is the Road to Change? The Parkland students have a new campaign, and it's sure to make a brighter future.
Earlier this year the Parkland activists already organized March for Our Lives in Washington D.C., where on March 24 the students marched to demand that our government start taking gun reform seriously. But they weren't alone. There were an estimated 200,000 people who gathered in D.C., and 863 sister marches took place in cities across the country. Now the Parkland students are back at it, this time with a bus tour called March For Our Lives: Road to Change.
The Parkland students will board a bus on June 15 for a national tour with two main focuses: voter registration and exposing politicians who received money from the National Rifle Association (NRA), according to BuzzFeed News. Jaclyn Corin, a Parkland survivor and organizer of the campaign, explained the Road To Change agenda to BuzzFeed in a June 4 interview. She said,
This tour is about exposing people who take money from the NRA and registering people to vote — those are the two main things we're trying to push with this.
Road to Change will start with a peace march on June 15 in Chicago and then the bus will head out to 50 stops in over 20 states over 60 days, with another tour making stops in just Florida, according to The Hill.
In a June 4 statement, the Parkland students said that they've picked stops where local politicians have received money from the NRA, as well as communities affected by gun violence. It read,
We're going to places where the NRA has bought and paid for politicians who refuse to take simple steps to save our lives — and we'll be visiting a number of communities that have been affected by gun violence to meet fellow survivors and use our voices to amplify theirs.
David Hogg, a Parkland survivor and organizer of Road to Change, told BuzzFeed that doing the tour in this way is important because, ultimately, gun policy reform is a group effort. He wants to open the conversation up to everyone, because that's the only way to make sure that gun safety is a priority. Hogg said,
I think that it's important that we include everybody in this conversation because it's everybody that's affected by this issue, and we have to work together to solve it. And I think being on the ground is the best way to do that. Just a handshake or looking somebody in the eye, rather than speaking to them through the TV, is a lot more impactful.
While one tour is heading out across the country, a separate simultaneous tour will travel through every Florida district. Corin explained that organizers felt it was important to do a separate tour of just Florida, because the state holds so many different types of people with different views. She said organizers think it will be important to talk to people who don't necessarily agree with their mission. She told BuzzFeed,
Because Florida is like a microcosm of the United States, in the way that there are so many different areas, with so many different views, which is important to target all of them — because preaching to the choir essentially doesn't do much, but going to the places that disagree with us is really where we're going to make the change.
This campaign and the March For Our Lives isn't even the only political activity these students have been involved with. These young activists have lobbied for gun safety bills, participated in town halls debating gun policy, and helped convince major brands to break ties with the NRA. As you can see, they've done a lot, but they're not slowing down.
During a June 4 news conference in Florida, Parkland survivor and Road to Change organizer Cameron Kasky said that the real change will come with people voting and that's what they hope to emphasize on tour, according to TIME. He said,
We can march. We can bring our politicians into a new light and make sure they are being held accountable. But at the end of the day, real change is brought from voting. The best thing you can possibly do is vote.
By the end of Road to Change, the students are hoping that more young people are registered to vote. Emma González, another Parkland survivor and organizer, said she would like to see the fruits of their labors in the polls, which means "NRA-backed politicians out of office." She told BuzzFeed,
We would see the outcome in the polls and we would see a lot of the NRA-backed politicians out of office and a lot of younger people who ran for office, in office. That would be the goal for us, especially after this summer and in the years going forward.
The Parkland activists have been on a long journey since the tragedy at their high school, but it's pretty clear that they're not stopping until they see change. If anyone can do it, they can.