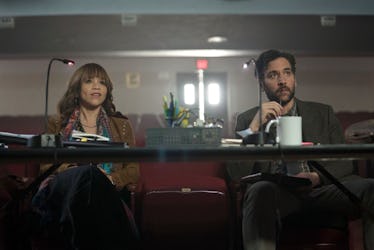 There's A New Show Airing After 'This Is Us' & You'll Be Just As Obsessed With It
NBC/YouTube
Something that has struck me as different during this year's Super Bowl: A lot of television shows and movies are using the opportunity to release trailers and teasers. One show that has caused a stir is called Rise. The new NBC show has definitely peaked my interest. What is Rise about? Well this show is definitely one you won't want to miss.
Jason Katims, the producer behind Friday Night Lights and Parenthood, has joined forces with Hamilton producer, Jeffrey Seller, to bring a new show into our lives.
Besides having proof that Katims and Seller know how to make a hit for the stage, big screen, and primetime, the plot of the show also looks super happy and uplifting. It also includes lots of singing, which is always a plus.
According to NBC, the show is a "heartening new drama about finding inspiration in unexpected places." The bio explains,
When dedicated teacher Lou Mazzuchelli (Josh Radnor) sheds his own self-doubt and takes over the school's lackluster theatre department, he galvanizes not only the faculty and students but the entire working-class town.
To answer your question: Yes, that is Ted from How I Met Your Mother. Besides Josh Radnor, the show also stars "Rosie Perez, Auli''i Cravalho, Damon J. Gillespie, Marley Shelton, Rarmian Newton, Ted Sutherland, Amy Forsyth, Casey Johnson, Taylor Richardson, Joseph Tippett and Shirley Rumierk," according to NBC.com.
Based on the show's Super Bowl ad, people on Twitter are excited to check out this new show.
According to The Hollywood Reporter, Rise is loosely based off the book Drama High. A few changes to the characters raised some questions among a few media outlets. Drama High, by Michael Sokolove, tells the true story of Lou Volpe, a drama teacher in Pennsylvania who spent over 40 years of his life teaching. As reported by THR, Lou Volpe, "is a married man with children who comes out as gay late in life." This is talked about in extent during the book. However, in the show, Volpe will be straight.
Because of this decision, critics accused Rise producers of "straight-washing" Volpe.
The producers of the show quickly released a joint statement about their commitment to the LGBTQ community. Part of the statement read,
We are firmly committed to LGBTQ inclusion, and most of all, are excited for the community to see Rise, which we believe portrays positive depictions of LGBTQ characters and stories on broadcast television with honesty and sensitivity. To that end, we worked with GLAAD on the show's LGBTQ storylines to ensure they are told with respect and authenticity.
The full explanation as to why Volpe will be portrayed as straight on Rise came from Katims during a winter press tour. He said,
I think that the source material that you're talking about, Drama High and that teacher, Lou Volpe, was such an inspiration to me and to everybody doing the show. To see somebody who, as you said, spent 44 years dedicated to this program was amazing. And I really hope that there is and believe that we carry a lot of his spirit into the show. But in terms of the adaptation itself and why we made that decision, it's like as you said, it's very much we took that as an inspiration, and then I really felt like I needed to make it, you know, kind of my own story. And I definitely didn't want to shy away from issues of sexuality and gender, but was inspired to tell the story of Michael, this transgender character, and Simon, who's dealing with his emerging sexuality and growing up in a very sort of conservative religious family. And those stories felt like they were sort of resonant with resonated with me kind of as a storyteller, and I wanted to kind of lean into that.
As for Volpe's family, there will be important plot lines from that area of the show as well. Katims continued,
And then really with Lou's family life and Lou's family itself, there's a lot of reimagination, not only in terms of whether he was gay or straight, but in terms of that family structure. Like, for example, you see in the pilot there's a storyline with his son, Gordy, who we suggest has a drinking problem. As you go on and you watch the next several episodes, even in episode two, that turns into a very a major storyline and becomes, I think, a very powerful part of our storytelling. So, you know, I really wanted I felt like it was important to me to honor what the source material was, but then to also kind of make it my own so that we would all be able to sort of lean in and do the work that we need to do as actors and writers.
Despite their decision to change Volpe's sexual orientation in the show, it looks like Rise will have some plot lines based around gender identity and sexuality.
Overall, I'm very interested to see what's to come from this new show, and I hope it's everything they are gearing it up to be. I will definitely be watching starting on March 13. New show, who dis?
Check out the entire Gen Why series and other videos on Facebook and the Bustle app across Apple TV, Roku, and Amazon Fire TV.