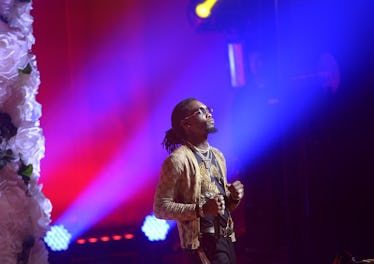 Offset's Net Worth Is Way Higher Than Cardi B's & The Reason Why Makes Sense
Charley Gallay/Getty Images Entertainment/Getty Images
When Offset gave Cardi B an engagement ring that was reportedly worth $500,000, many fans were left wondering just how big a fortune he's earned over the years. Believe it or not, the Atlanta-born rapper is worth way more than most fans probably think. With nearly a decade of music experience under his belt, Offset's net worth is growing by the year. And, as we've seen, he's more than happy to show it off for his lady love Cardi B.
While there are a wide range of estimates, Inquisitr suggests that Offset's net worth is right around $9 million. So, how did he amass this ever-growing fortune? Well, it's a combination of musical output, expanding his horizons, and just being smart.
Offset, who got his start with rap group Migos, found success early on in his career and has been traveling a million miles a minute ever since. He's released solo albums, gone on tour, and appeared on the hit FX show Atlanta (where he played himself).
If that $9 million figure is indeed accurate, then clearly Offset knows exactly what he's doing money-wise. While keeping up with the lifestyle of a millionaire rapper can drain your bank account, this appears not to be the case at all with Offset. A sure sign he's incredibly smart with his money.
Offset is readying himself and his multi-million dollar fortune for a brand new journey with Cardi B. He and the rising female rapper are expecting a child together. The big news comes after months of fan speculation and incessant rumors about the couple. Offset and Cardi B have remained relatively silent on the matter. It was only on Saturday, April 7, that Cardi revealed her growing baby bump on Saturday Night Live.
"Cardi and I look forward together to out next chapter together," Offset said in a recent tweet.
Offset has two sons and a daughter from previous relationships, so he's already a pro at parenthood. No doubt he'll be showing Cardi the ropes and loving every second of it!
While there's been no direct confirmation about how far along Cardi is, she does look very pregnant. And she's absolutely glowing! Fans think Cardi and Offset will be having a baby girl later this year due to a comment Cardi's sister, Hennessy, made on Instagram. Hennessy posted a photo with a caption that read,
A baby is truly a blessing from god I know how much you always wanted to be a mom! You always been Like a second mom to me so I know u gonna be the best mommy everrrr. you took care of me like i was ur own daughter I know how much you LOVE babies. Growing up, you would always break me off a piece of your plate without me asking... to our little brother you give him whatever he imagines .... every time I use to see your adorable baby pictures , I use to wish I was older than you just so I wouldve gotten the chance to carry you and give you kisses when you were a baby because you were so cute and adorable! and NOW that ur baby is coming its like it's coming true!
According to Us Weekly, Hennessy then said, "I'm going to be able to hold ur baby and give her all the kisses and hugs." However, "her" has now reportedly been changed to "the baby." Elite Daily reached out to Cardi's team for comment but did not hear back by the time of publication.
While they await their little one, who is likely due this summer, Offset and Cardi are doing everything they can to secure their future as a family unit. The couple got engaged last October and both are seeing success with new music.
Offset's group Migos released Culture II earlier this year. The album debuted at number one on the Billboard 200 and the group is currently on tour. Meanwhile, Cardi is busy solidifying her place in rap royalty. Her debut album, Invasion of Privacy, was released Friday, April 6, and she's already seeing an amazing amount of success with it.
All this leaves fans wondering what's next for the couple. Whatever's in the cards — be it marriage, more kids, or even more incredible music — Offset and Cardi B are most definitely off to an incredible start, both personally and professionally. And it seems as though they're dead-set on getting things done their way, no matter what fans, critics, or other industry folks have to say. What an admirable power couple!