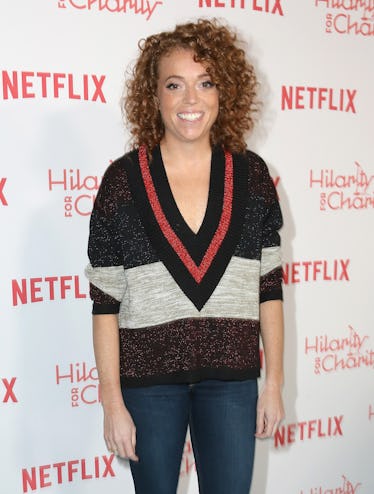 If You Want More Michelle Wolf After The WHCD Check Out The Promo For Her New Show
Rachel Murray/Getty Images Entertainment/Getty Images
On Saturday, April 28, Michelle Wolf was ready to crush it at the White House Correspondents' Dinner in Washington D.C. The relative newcomer to the political comedy scene was following some hefty comedic footsteps — as major comedians like Jay Leno, Wanda Sykes, and Stephen Colbert have previously hosted the event — and likely gained a smattering of new fans with her hosting duties. Lucky for those fans, Michelle Wolf has a new Netflix show premiering in May, and the streaming platform dropped a new promo for the show as the dinner was happening on Saturday night.
The upcoming show is called The Break with Michelle Wolf, and, Netflix tells Elite Daily, is hitting screens on May 27, so unfortunately you've got about a month to wait to see more of Wolf's new work. But the show itself will probably be worth the wait, at least judging by her past work. The Break is going to be a weekly half-hour program that toes the line between comedy and sketch show.
"You can expect the types of jokes my former bosses would tell me we couldn't do on TV," Wolf said about The Break when the show was announced in February, according to Deadline. You can get a glimpse of what to expect in the show in the new promo:
"My show has jokes and sketches and celebrities," Wolf says in the promo, which shows her on a Netflix screen attempting to explain the show in between being butted out of the screen by a fake new show starting up. "Just watch the show. It's really fun, 'cuz I'm very easy-going."
Wolf was a pretty big get for Netflix, which has been amping up its efforts on new weekly programs — and particularly programs with comedians. The streaming platform has hosted shows in turn hosted by David Letterman and Joel McHale. Netflix had previously had a show hosted by Chelsea Handler, but it was canceled last fall after two seasons. Meanwhile, Hasan Minhaj, who hosted last year's White House Correspondents' Dinner, is also getting his own weekly talk show on Netflix.
"We're thrilled to be working with Michelle, a gifted writer and performer with a singular voice," Netflix's Vice President for Content Bela Bajaria said in a statement when The Break was announced.
Netflix has good reason to be excited to be working with Wolf, if you couldn't already tell from her White House Correspondents' Dinner work. Wolf has a ton of expert experience within comedy and a perspective that's different from the more typical white male face of comedian-based shows and talk shows. Well before the White House Correspondents' gig, Wolf was hired as a writer for Late Night with Seth Meyers in 2013. After that, she moved over to The Daily Show with Trevor Noah. Wolf was also a writer for Chris Rock when he hosted the 2016 Academy Awards.
But it's not all just writing jokes for dudes. Wolf has made a face for herself — literally — with her own comedic work. In 2015, she starred in a Comedy Central web series called Now Hiring. In 2017, she had a debut standup special for Netflix called Nice Lady.
Although Wolf's been putting in work in comedy for years, she came to it from a very interesting route. She grew up in Hershey, Pennsylvania and went to the College of William and Mary in Virginia, where she studied kinesiology. After college, she spent a few years working in finance in New York City — until she quit and started taking improv classes. It's been a journey, to say the least, and The Break is sure to be the next, hilarious step in that journey.