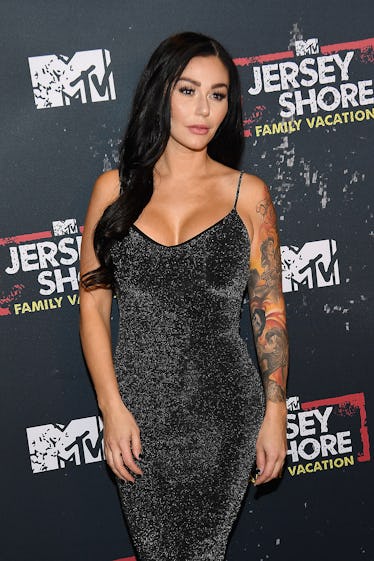 JWoww's Net Worth Will Make 'Jersey Shore' Fans' Jaws Drop
Dave Kotinsky/Getty Images Entertainment/Getty Images
Jenni "JWoww" Farley has been in the public eye since Jersey Shore premiered in 2009 and became an instant pop culture phenomenon. America couldn't help but fall for the New York native's outspoken and fun-loving personality, and the country is still enamored almost a decade later — 2018's Jersey Shore Family Vacation has become a ratings success. Jenni's television endeavors have proved to be quite lucrative over the years, but what is JWoww's net worth? The reality star has taken her career to the next level and it pays.
Even though she signed on for more Miami seaside shenanigans in Jersey Shore Family Vacation, which is currently airing on MTV, Farley has come a long way from her hard-partying days in Seaside Heights. The 32-year-old is mother to two adorable kids — daughter Meilani and son Grayson — with husband Roger Mathews. Business-savvy Jenni has remained plenty busy throughout the last decade, despite the fact that Jersey Shore has been off the air for five years.She starred in the spin-off Snooki & JWoww for its four-season run and appeared on Marriage Boot Camp in 2014. She and Snooki teamed up yet again for Snooki & JWoww: Moms With Attitude, a web series which chronicled their adventures in motherhood. Of course, it likely pays to return to the show that catapulted you to stardom. There's no word on the cast's exact salary for Family Vacation, but it's been reported that Jenni received around $100,000 per episode during Season 6 of Jersey Shore if that's any indication of what she might be earning these days.
According to People, thanks to her commitment to the reality TV game, Jenni is now worth around $3.5 million. Some of her fellow cast mates are in a similar financial ballpark — Snooki comes in with approximately $4 million and self-proclaimed "keto guido" Vinny is in the $3 million dollar range. Pauly D is raking it in — the world-famous fresh to death DJ is reportedly estimated to be worth between $15 and $24 million. Remember how he toured with Britney Spears once? Awwwww yeah.
The entertaining antics of the OG Jersey Shore fam aren't going anywhere any time soon, so this cast can continue to bank on making, well, bank. The show was impressively renewed for another season prior to its premiere. "We start season two soon," JWoww revealed to The Hollywood Reporter on April 8. "I know nothing," she also recently remarked to E! News regarding being kept in dark about her future filming whereabouts. "And they probably don't tell us anything right now because we would be on this carpet right now telling everyone where we were going." Makes sense. Wherever this group is planning on partying, fans are sure to flock to be a part of the fist-pumping action. But where do they hope to be GTL-ing next? JWoww threw out the idea of Amsterdam, Pauly is all about Vegas, Deena suggests her "heart and soul" of Jersey, and Nicole "Snooki" Polizzi would prefer to be home with her children because "being a mother comes first."
"I would want it to be a different format," Snooki further explained to E! . "Supposedly it's going to be like a Housewives format, where we film three days a week and then we go about our lives and we're not sequestered in a house for a month without seeing my family."
Hey — if it works for the Housewives, I'm thinking it could work for this outrageous and always-amusing bunch. Last week's episode of Family Vacation documented what felt like 25 minutes devoted to cleaning up the aftermath of Ronnie's hazardous toilet clogging, so this show can make practically anything feel like worthwhile entertainment.