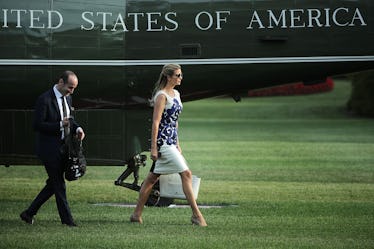 Ivanka Trump Is Working On Tax Reform — & She Really Needs A Win
Chip Somodevilla/Getty Images News/Getty Images
The first daughter has been busy this fall pushing one point in particular of her father's platform: overhauling the tax code. Anyone following her on social media has seen her flood her feed promoting the agenda. Here's what Ivanka Trump's been doing on tax reform while our attention has been diverted to any number of other bombshell headlines.
"Great morning talking #TaxReform with @RepTomMacArthur & Treasury Secretary Mnuchin in Bayville, NJ," Trump tweeted on Monday, Nov. 13. "We are seeking historic tax cuts to empower hardworking American families to build a better life for themselves and their children."
This is the latest online promo of a tax reform plan she's spent the last couple months pushing for. Trump has been doing a world tour of sorts, pitching the controversial outline that would upend the tax code anywhere and everywhere she can. But as clear as she's been on her support for it, it's less clear how successful her effors have been.
Trump has been going public with her support. On a Monday appearance on Fox & Friends, Trump was on air explaining her tax stance. "I think we've already seen the president's agenda bearing fruit in the form of growth," she said on the show, mentioning deregulation as a big reason. In addition, she's been working on the ground in Washington to catch lawmakers' ears.
A Politico report in early October tallied up Trump's behind-the-scenes efforts to push for her father's tax agenda, including phone calls and meetings with many players of the conservative-leaning economic corner, and even hosting Congress members for dinner at her own Washington D.C. home. "I've been spending a tremendous amount of time meeting with members of Congress on the Hill," she said on Fox & Friends.
Trump has been using a few key talking points in her support for the tax plan. She's a self-proclaimed advocate for women's issues, especially economic empowerment, and one of the sticking points of the tax reform plan is the child tax credit. Expanding the credit is widely seen as a given for the GOP's plan, making room for cuts elsewhere. "A significant expansion of the Child Tax Credit will help parents have more money at a time in their lives when they need it the most and give them the flexibility to make the best choices regarding their families' care," Trump said in a statement to Politico. "We've been deeply committed to helping parents afford the costs of raising and caring for their children since the early days of the administration and will continue to advocate for relief for American families in the coming weeks."
Trump is pushing for a simplification in the process for filing taxes, so that average families who can't afford accountants or "teams of lawyers," as she said in an event this week, aren't left in the dust.
She's also been billing the plan as a boon to American families, particularly the middle class, that will revitalize the economy. Trump's tax plan has been criticized by Democrats and economic experts alike, however, as primarily benefitting the top 1 percent, with a whopping cut in the corporate tax rate from 35 to 20 percent and an estate tax elimination that will affect families like the Trumps, while potentially raising middle-class taxes.
And Trump could use a win. Her role as an advocate for women has been repeatedly called into question, and, meanwhile, her behind-the-scenes reported roles in pushing for support for the LGBTQ+ community and the environment have largely flopped thanks to her father's decisions.
House Republicans are looking to pass their version of the tax reform bill this Thursday, though with significant differences from Senate proposals, Congress would have a long way to go to hammer out the details. And on Tuesday, the Senate announced its plan would eliminate the Obamacare individual mandate, adding another spinning plate to the mix as lawmakers address how to move forward.
If the first daughter's efforts this season to push her father's agenda through has had any effect at all, we may have a good indiction by Thursday.