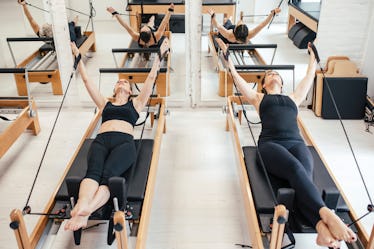 6 Things To Know About Gyrotonic Exercise, The Workout That'll Perfect Your Posture
If you're like the majority of Americans, and you also find yourself constantly hunched over a computer screen or craning your neck to read an Instagram caption, you've probably suffered from a whole lot of back pain and less than pristine posture. Luckily, a wellness trend that claims to correct your posture and soothe your aching spine is swiftly rising toward the spotlight. It's called Gyrotonic exercise, and it sounds fancy, but it's actually a pretty simple concept. So, what is Gyrotonic exercise? Allow me to break it down for you.
Despite that "gyro" prefix, Gyrotonic exercise (unfortunately) has absolutely nothing to do with delicious, pita-wrapped Mediterranean cuisine. Rather, it has everything to do with strengthening your core through a mind-body training method. From my understanding, Gyrotonic exercise is basically like if yoga and pilates had a baby (and that infant always sat up straight, even if her mom didn't tell her to).
The fluid movements you experience in a Gyrotonic workout address every single part of your body, stimulate your nervous system, increase your flexibility and strength, and clear the energetic pathways coursing throughout your body.
There are numerous benefits to this training method, some of which include improved spinal health and posture after just a few sessions. If you're thinking about embarking on your first Gyrotonic workout sesh, here are six things you should know before you hit up your local studio and try the exercise that even Lady Gaga is incorporating into her busy routine.