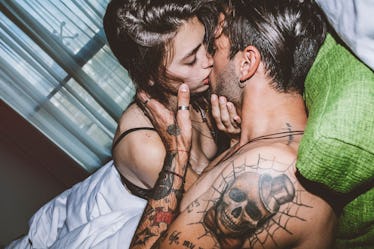 There's A Term For When You Stop Using Condoms With A Partner, & It Might Surprise You
I am so grateful for condoms. When used properly, they are highly effective at preventing pregnancy and STIs. Plus, they are inexpensive and easy to get. Condoms are awesome. That being said, there may come a time when you decide with your partner that you are ready to forego them and fluid bond instead. If right now you're wondering, "Wait, what is fluid bonding?" then allow Stefani Goerlich, LMSW and sex therapist who specializes in working with the BDSM and kink population, explain. "Fluid bonding is the act of choosing to engage in activities that will allow for the cross-sharing of bodily fluids," she tells Elite Daily. Basically, it's exactly what it sounds like.
While the definition of fluid bonding may be clear, the choice to actually do it with someone is far more complicated — and one you should not take lightly. It's incredibly intimate, but it's also not without a lot of serious potential risks. So, if fluid bonding is something you and your partner are considering in the near future, you need to know how to do it safely and responsibly. Here's how to be sure you're ready, and how prepare to go condom-free, according to an expert.