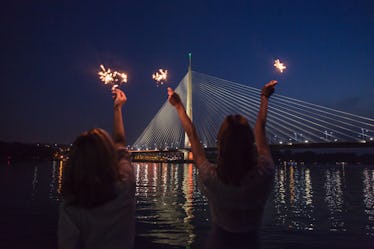 5 Changes You'll Notice In Your Life If You Kickstart Your New Year With Dry January
If you're someone who's always on the internet, but you can't keep up with the many trends passing in and out of your news feeds (aka someone like me), then you may have missed the memo on what Dry January is. It's a pretty simple concept: You give up drinking alcohol for all 31 days of January. While the idea of ditching alcohol for any period of time is by no means a new one, the popularity of Dry January really only just began a few years ago.
Alcohol Concern, a UK-based charity that works to combat alcohol abuse, first launched the campaign of "Dry January" in May 2012. It turned out to be a huge success, as it proved to help a lot of people curb their drinking habits, and even for those who didn't necessarily abuse alcohol, participating in Dry January helped them "feel more confident turning down a drink when they [didn't] really want one" when out at social events.
When all is said and done, the decision to do Dry January is a personal one, and it's all about what you want to learn or gain from the experience. But if you're on the fence about whether or not you really want to give it a shot, here are a few changes you could notice in your life if you do choose to start your new year off with a month of no alcohol.