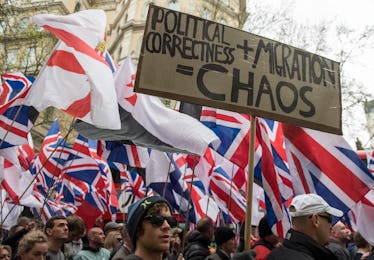 Trump Retweeted A Far-Right British Party's Anti-Muslim Videos
Chris J Ratcliffe/Getty Images News/Getty Images
On Wednesday, Nov. 29 President Donald Trump stirred up Twitter controversy by retweeting a series of videos from a British far-right group that supposedly portray Muslims committing acts of violence. The videos, which contain graphic material, were posted by Britain First's deputy leader, Jayda Fransen, and retweeted by our Commander-in-Chief. With Trump's track record for anti-Islamic sentiments, as well as his reckless Twitter behavior, things like this have lost some shock value. However, this tweet has raised questions about what Britain First is, and who the far-right group's deputy leader, who Trump retweeted, is.
Fransen, Britain First's deputy leader, was the first to post the three violent videos on Tuesday, Nov. 28. The videos were titled: "Muslim migrant beats up Dutch boy on crutches," "Muslim destroys a statue of Virgin Mary," and, "Islamist mob pushes teenage boy off roof and beats him to death." Seems like appropriate, presidential Twitter material. Fransen, 31, is a London native who is currently on bail after receiving four charges of religious aggravated harassment, along with Paul Golding, 35, the other leading member of the far-right group who is facing three charges. Fransen was also arrested in early November for giving an anti-terrorism speech in Ireland in August. Fransen is expected in court in December for using hostile and abusive rhetoric during her Ireland speech, according to The Sun.
Below is one of the videos originally posted by Fransen. Fair warning, the videos contain graphic material and allege the violence is incited by Muslims and Islamists.
The authenticity of the videos has been questioned, but White House Press Secretary Sarah Huckabee Sanders said on Wednesday that the authenticity does not matter because "the threat is real." She added that Trump's "goal is to promote strong borders and strong national security."
After Trump retweeted her videos, Fransen issued an excited thank you to the president, tweeting, "THE PRESIDENT OF THE UNITED STATES, DONALD TRUMP, HAS RETWEETED THREE OF DEPUTY LEADER JAYDA FRANSEN'S TWITTER VIDEOS! DONALD TRUMP HIMSELF HAS RETWEETED THESE VIDEOS AND HAS AROUND 44 MILLION FOLLOWERS! GOD BLESS YOU TRUMP! GOD BLESS AMERICA!"
British First is a far-right group that was created in 2011 to protest and promote their mission of a restored Britain free from Islamic terror and renewed to the "bedrock and foundation" of Christianity, per their mission statement. According to their website, one of their founding principles is that Britain First opposes Islamic extremism and mass immigration because they are a danger to the British people. One of their latest campaigns is a petition to stop the BBC from discrimination in the hiring process against white Brits.
Even after six years of campaigning and a Facebook following of almost two million people, a November 2017 protest displayed a lack of support for the group, with just 50 demonstrators outnumbered by a larger group of anti-fascist protesters. In response to their turnout, Golding blamed the police for sabotaging the rally, according to the Huffington Post.
Considering their shared beliefs, it's understandable why Trump would retweet this far-right group. Trump's 2016 presidential campaign aligned with similar British First principles like halting immigration and a fear of terrorism and Islam. In March 2016, Trump told CNN, "I think Islam hates us. There's something there that — there's a tremendous hatred there. There's a tremendous hatred. We have to get to the bottom of it. There's an unbelievable hatred of us." This is in addition to his proposed "Muslim ban."
Given the graphic content in the videos that Fransen posted and Trump retweeted, the videos aim to demonize and clump together a certain group of people with negative connotations, and therefore create further separation and polarization between people. While people are not surprised by Trump for retweeting these videos, this type of behavior should never be normalized or endorsed, especially by the president. For all we know, maybe Trump's outrageous Twitter behavior is just a tactic to distract the American public from what he's really up to.