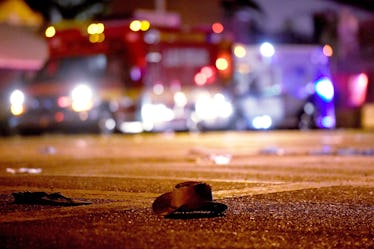 The Weapons The Las Vegas Shooter Used Are Among Some Of The Deadliest Guns
David Becker/Getty Images News/Getty Images
On Sunday, Oct. 1, at a little after 10 p.m. local time, a gunman opened fire several times on concertgoers attending the Route 91 Harvest Festival in Las Vegas, Nevada. According to NBC News, the gunman opened fire from inside one of the hotel rooms at the Mandalay Bay Resort and Casino onto the crowd. According to the Las Vegas Sheriff, the shooter was found with more than "10 rifles." In terms of mass shootings, varying types of assault weapons have typically been used in the past to inflict more damage and more casualties. What is an assault weapon?
Well, when talking about the Federal Assault Weapons Ban, which was passed in 1994 but is no longer in effect, the U.S. Department of Justice said, "In general, assault weapons are semiautomatic firearms with a large magazine of ammunition that were designed and configured for rapid fire and combat use."
UPDATE: Las Vegas Police Department Sheriff Joe Lombardo has confirmed that at least 58 people were killed and over 515 were injured in the shooting. The shooter has also been confirmed dead and is not believed to have a connection to any terrorist group.
EARLIER: Though the definition of an assault weapon, in terms of what truly constitutes this type of weapon, can get a bit murky, it usually refers to a type of firearm — typically a semiautomatic weapon — with a detachable "magazine" (storage for ammunition) and a pistol grip, which is the handle found protruding below the trigger. Some assault weapons may include a covering called a barrel shroud, which protects the gun's user from the hot barrel, or a flash suppressor, which is used to protect the shooter from potentially being blinded by the bright flash produced when the gun goes off.
Still, the exact definition of an "assault weapon" is incredibly difficult to pin down, especially when it comes to legislation regarding the regulation of these military-grade weapons. "I wrote a book on gun control. I don't know what an assault weapon is," Harry Wilson, author of Guns, Gun Control, and Elections: The Politics and Policy of Firearms told CNN in January 2013.
Other legislative definitions of "assault weapons" have listed these firearms as including the aforementioned items, as well as a collapsible stock (the part that rests against the shooter's shoulder), a mount for a bayonet (or blade), or even a grenade launcher.
When the Federal Assault Weapons Ban was enacted, it included a list of "19 semiautomatic firearms, as well as semiautomatic rifles, pistols, and shotguns with specific features," according to CNN.
More specifically, an assault rifle (the reported weapon of choice for the Las Vegas shooter), which is a type of assault weapon, is a bit easier to define. The U.S. Army defines assault rifles as "short, compact, selective-fire weapons that fire a cartridge intermediate in power between submachine gun and rifle cartridges." In layman's terms, the firearm must be capable of long-range shooting (at least 330 yards), and it should be capable of selective firing (meaning the speed or mode with which the gun fires is adjustable).
While it's unclear at the moment the exact type or name of the weapons the Las Vegas shooter used — law enforcement officials have yet to provide details regarding the weapons — assault rifles, like those used in previous mass shootings like Sandy Hook, can be deadly weapons, especially if not used correctly or when used for malicious purposes. Proponents of automatic and semiautomatic weapon bans argue that because these firearms are designed specifically for military uses in combat — to kill many, quickly — these weapons shouldn't be in the hands of non-military individuals, according to the New York Times.
With regard to last night's mass shooting, the gunman left at least 50 dead, and approximately 400 individuals injured. Senior U.S. officials have confirmed that, as of yet, nothing points to the Vegas shooter being connected to ISIS. In an address to the nation following the shooting, President Donald Trump expressed his condolences to the victims and their families. In his speech, he continued,
We call upon the bonds of citizenship, the ties of community, and the comfort of our common humanity. Our unity cannot be shattered by evil; our bonds cannot be broken by violence. And though we feel such great anger at the senseless murder of fellow citizens, it is our love that defines us today and always will forever.
Former president Barack Obama also expressed his sympathy toward the victims on Twitter.
If you're wondering how you can help the victims of the Las Vegas shooting, click here. Our thoughts are with the victims of this senseless tragedy and their loved ones.