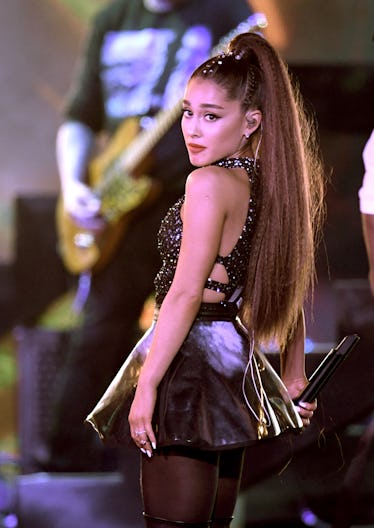 Ariana Grande's Real Name May Surprise You
Kevin Winter/Getty Images Entertainment/Getty Images
My main girl Ari is killing it right now. Ever since she dropped her new album Sweetener, the pop star has leveled up in her career like whoa. She's been all over promoting her newest tunes and slaying the music game. It has people paying attention to her like never before, and boy are we still learning. For example, her real name isn't what you think it is. What is Ariana Grande's real name? Well, it's not Ariana Grande. I can tell you that.
First of all, Grande shocked people when she recently revealed how to truly pronounce her last name. Brace yourself, because it's actually Gran-DEE, not Gran-DAY. During an interview with Beats 1 radio, Ari explained her granddad opted to change the pronunciation when he came to the states to make it sound more American. She told host Ebro Darden, "My grandpa said Gran-DEE. Gran-DEE was kind of the Americanized version of it, made it more chill... then my brother was like, we should say Gran-DAY." Well, well, well. Grande's brother Frankie would be the one to liven things up, wouldn't he?
During an interview at the 2018 MTV Video Music Awards, Frankie broke it down,
My grandfather, he started it as Gran-DEE. Frank Grand-DEE was his name. So, when I joined Actors Equity, I didn't want my name to be Frankie Gran-DEE. I just didn't like that it rhymed. And I was like, 'You know what? I'm going to go back to our Italian roots and I'm gonna pull out Gran-DAY.' And then when I started doing it, my grandfather started doing it, and then everyone started doing it.
Today, fans are also referencing a super old tweet Ari sent out to a fan back in 2012. Back then, people speculated her middle name might be "Joan," which is the name of her and Frankie's mother. However, Ari nixed that rumor and admitted her full name was actually Ariana Grande-Butera — Butera being the last name of her father. She tweeted, "Ariana Grande-Butera, everyone thinks Joan is my middle name but I don't actually have one!"
It's unclear if she's legally dropped Butera or just goes by Grande for promotional purposes. I mean, there's no doubt about it — dropping that hyphen made her name so much more snazzy (which is a nice way of saying it takes up less space on concert posters).
Fans are also wondering if there is any link to Ari's name change and her relationship with her estranged father, Edward Butera. In 2014, she admitted to Seventeen magazine that she had a poignant falling out with her dad.
"It's private, but it happened last year. It took me so long to be okay with it. The thing that got me there was embracing the fact that that I am made up of half my dad, and a lot of my traits come from him. So much of me comes from my father, and for so long, I didn't like that about myself. I had to accept that it's OK not to get along with somebody and still love them."
Well, Ariana Gran-DEE, Gran-DAY, or Grande-Butera, your fans love you no matter what you call yourself. I'll just call you Queen.