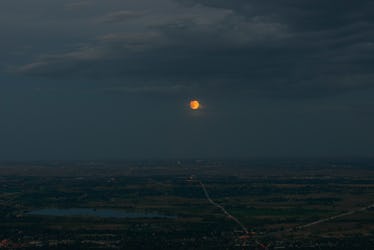 A Creepy, Crimson Blood Moon Is Coming & Here's What You Should Know
A blood moon sounds so dangerous and mysterious, doesn't it? Well, we've got one coming to a sky near you (or, you know, the sky that we all see, I guess) on Jan. 31, so you might want to get ready for it and all it might entail. But what is a blood moon, you may ask? And what exactly makes it so crimson and bloody looking? Don't worry, I assure you it's not quite as apocalyptic as it sounds.
Basically, a blood moon is another way to refer to a total lunar eclipse. It isn't a scientific term, it's more just what we earthlings call it because of the reddish hue it often takes on. During a total lunar eclipse, the moon moves entirely behind the shadow of the Earth.
But there does happen to be something particularly special about the upcoming blood moon at the end of January. Not only will it be the second full moon within the month (an event called a blue moon), it'll also be a supermoon (which is when the moon is bigger and fuller because of its proximity to Earth) and a total lunar eclipse, all at the same time. The last time all three of these things happened at once was on March 31, 1866. So, yeah, it's been a while.
In order to gain a little more insight into this very rare and very cool lunar event, I consulted a lovely book about the moon I own by intuitive and author Diane Ahlquist called Moon Magic. So, without further ado, here's what you need to know about blood moons to prepare for the epic evening on Jan. 31.