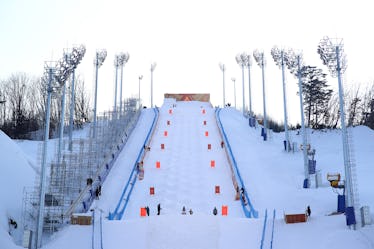 This Is What Happens To Old Winter Olympic Tracks
Cameron Spencer/Getty Images Sport/Getty Images
There is no sporting event more impressive than the Olympics. Period. From ice rinks to ski slopes, these winter tracks take years to make and cost millions of dollars. So once the magic wears off, what happens to old Winter Olympic tracks? Well, it's a little complicated.
According to Today, many Olympic tracks become long-forgotten once the Olympics come to an end. This is particularly common with Winter Olympics, since the games' venues sport a heavy price tag with their large scale.
However, there are some success stories.
The 2014 Sochi Winter Olympics, which at $51 billion is known for being one of the most expensive Olympic games in history, at least attempted to make use of their past spaces. According to Today, plans for Fisht Stadium, the site of the opening and closing ceremonies, include being used as both a concert venue and training center of aspiring Olympians. Other Olympic site such as ice rinks, ski slopes, and arenas are expected to continue their legacy as winter sporting spaces.
According to Glenn Scott, an Australian-based infrastructure expert, reusing and recycling buildings a city already has is a key way to ensuring Olympic tracks and venues are able to retain their Olympic-level glory and not break too much of the budget. He told The Guardian,
On paper the easiest thing to do is design a bunch of bespoke Olympic venues, which then you end up after an Olympics trying to retrofit for some other use. Far better is to decide what a country actually needs and then fit an Olympic event into that building.
Of course, thinking ahead also helps. According to Today, the venues of the 2002 Winter Olympics in Salt Lake City, Utah are still in use to this day thanks to a $76 million fund from the Utah Olympic Legacy Foundation. Sandy Chio, marketing director for the Utah Olympic Legacy Foundation, told Today that preparing for the future of the Olympic sites post games was always a forethought going into such a huge event. She told Today,
When we make the comment that the 2002 Games were successful, from a planning standpoint, there was the forethought to think about what we would do with the venues going forward. You have this three-week event, the biggest event in the world, but then what's next? From an organizing committee standpoint, that process was put in place as the Games were being planned, and the result is what we see today.
As for other venues, many are still hosting exciting events. The 2010 Vancouver Winter Olympics transformed their speed skating rink the Richmond Olympic Oval into an active multipurpose sport park. The Lysgardsbakkene Ski Jumping Arena of 1994 Lillehammer Winter Olympics in Norway recently held the Winter Youth Olympics in 2016.
However, the coolest revitalization of an Winter Olympic venue has got to go to Oslo, Norway. The city hosted the 1952 Winter Olympics and has since opened a virtual reality ski simulator inside the Holmenkollbakken Ski Museum, which sits right below the famous Holmenkollbakken ski jump. Not only is the ski jump the most visited tourist site in Norway, but it's also the home to Holmenkollen Skifest, which occurs every year in March.
Not impressed yet? Well maybe this will do the trick. On Feb. 2, Duchess Kate Middleton took to the slopes in Holmenkollbakken alongside Prince William to enjoy a relaxing few days of Olympic drenched bliss.
As for this coming year, who knows what will become of the 2019 PyeongChang Olympics' arenas and tracks. One thing is for sure though, the city is already gearing up to impress since their Alpensia Ski Resort will be hosting an ice sculpture festival throughout February.
I may not not be the biggest sports fan, but the Olympics never cease to amaze me.