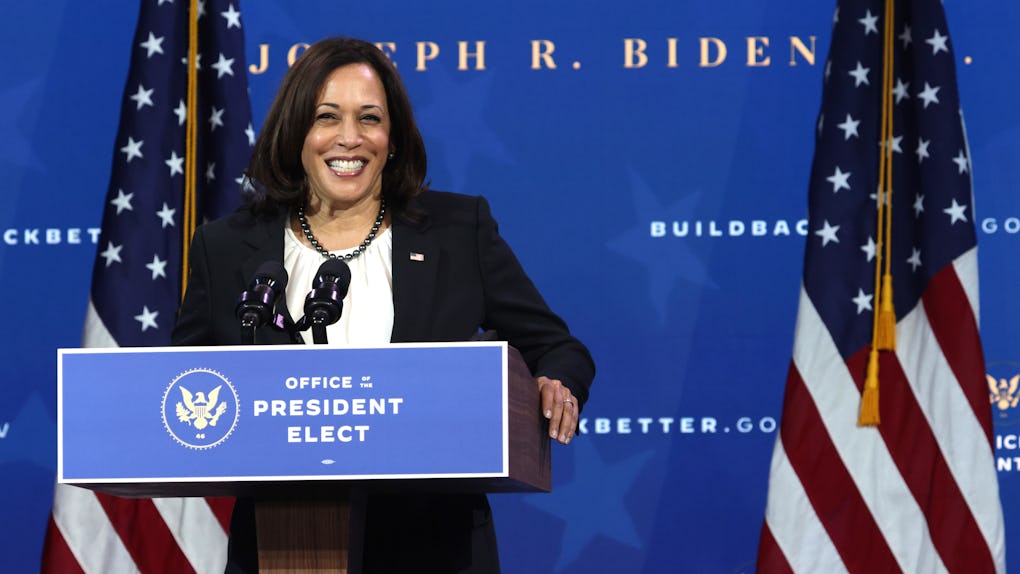 Alex Wong/Getty Images News/Getty Images
What Happens To Kamala Harris' Senate Seat After The Election? There's A Process
Even before President-elect Joe Biden and Vice President-elect Kamala Harris were named the projected winners of the 2020 U.S. presidential election on Nov. 7, speculation about what would happen to Kamala Harris' Senate seat after the election was running wild. With the California senator now scheduled to take the oath of office as vice president on Jan. 20, 2021, California Gov. Gavin Newsom has been making moves to find a replacement among a growing pool of competitive candidates — and his pick is making history. Here's what to know about Alex Padilla, who will take over Harris' vacant seat, according to a Dec. 22 statement from the governor's office.
On Tuesday, Dec. 22, Newsom put months of theorizing to rest by announcing that California's Secretary of State Alex Padilla will replace Harris in the Senate once she resigns ahead of the inauguration. Newsom's decision wasn't a surprise to many, as Padilla was an early favorite and has been an ally of the governor during his political career. When sworn in, Padilla will make history as the first Latino in California to represent the state in the U.S Senate, according to NPR, which is especially noteworthy in a state where Latinos make up 40% of California's population.
Following the announcement, Padilla took to Twitter to share the news himself, writing, "I am humbled and honored to serve as California's next United States Senator. Thank you, @GavinNewsom, for entrusting me with the role of defending the dream for the people of California."
California is one of 37 states where, in the event of a vacant Senate seat, the governor can appoint an interim senator to serve the remainder of the term, according to Ballotpedia, thus granting Newsom the ability to fill Harris' seat with a candidate of his choosing. According to current California law, Padilla will serve out the remaining two years of Harris' term and be eligible for re-election during the next statewide general election in November 2022, per The Intercept.
Leading up to Gov. Newsom's decision, there was speculation he would be looking for a diverse candidate to reflect California's demographics while filling the vice president-elect's very qualified shoes. Before making history as Biden's running mate, and then vice president-elect, Sen. Harris' 2016 Senate win made her the first Black woman to represent California in the Senate.
Padilla, who has served as secretary of state since 2015, appears to be taking his role as Harris' successor seriously. In a Dec. 22 tweet, Padilla joked he had "big Chuck Taylors to fill," and then on a more serious note, he shared his intent to represent the state as Harris had, saying, "I'm committed to serving in the U.S. Senate with the same preparedness, passion and poise."
Padilla also addressed the crisis at hand in a statement about his appointment: "From those struggling to make ends meet to the small businesses fighting to keep their doors open to the health care workers looking for relief, please know that I am going to the Senate to fight for you." He added, "We will get through this pandemic together and rebuild our economy in a way that doesn't leave working families behind." Meanwhile, Gov. Newsom praised Padilla's "tenacity, integrity, smarts and grit," calling him a "senator for all Californians."
Even before the electoral college officially cemented a Biden-Harrris victory in mid-December, efforts to start lobbying for potential candidates were already underway. Back in August, Gov. Newsom shared during a press conference he'd already been presented with his fair share of contenders.
According to multiple news outlets, prominent names that were also in consideration included House Intelligence Committee Chairman Rep. Adam Schiff, former Los Angeles Mayor Antonio Villaraigosa, Attorney General Xavier Becerra, and Democratic Reps. Karen Bass, Barbara Lee, Katie Porter, and Nanette Diaz Barragan.
With the speculation put to rest, it looks like Padilla is ready to step into Harris' shoes, er, Chucks.
Editor's Note: This post was updated on Dec. 22, following Gov. Gavin Newsom's announcement that California's Secretary of State Alex Padilla will fill Vice President-elect Kamala Harris' Senate seat.
This article was originally published on