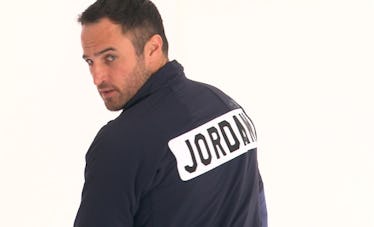 Refresh Your Memory On 'Paradise's Newest International Addition, Jordan
ABC
Labor Day's three-hour Bachelor in Paradise episode introduced a new competing face late in the game, but if you didn't watch February's Bachelor Winter Games it's possible you have no idea who he is. Jordan Mauger stepped on the scene with a rose (and a Kiwi accent), ready to save one of the concerned unattached ladies at risk of getting sent home. That's a lot of power to have within the first few minutes of arriving. He might be sticking around, which means it's probably time for a refresher on his past. What happened with Jordan on Bachelor Winter Games? The New Zealand native already had his fair share of reality TV drama.
Last time Bachelor Nation saw Jordan, he was in Vermont cozying up to another alum of BiP Season 5. But his Bachelor journey didn't start there. He's a notorious alum of Bachelor New Zealand who became known as the guy who actually flipped a coin to choose between his final two suitors. Let's just say that idea didn't earn him fan favorite status. In fact, he was villianized for the decision-making move. When he entered the Winter Games house, the established cast was rightfully skeptical of his intentions, but he ended hitting it off with Bibiana Julian and their surprisingly sweet connection seemed genuine.
Bibiana (who was eliminated from BiP earlier this season), struck up a romance with Jordan on Winter Games that appeared to have potential to go the distance. They connected deeply and were attached at the hip until it all became too real for her. Despite her quest for everlasting love, Bibiana had to slow things down with Jordan after he expressed interest in taking their romance beyond the show. When he sat her down to discuss their future, she pretty much launched into an emotional tailspin of uncertainty.
"I very much really want to be with you after the show, and I think from the time we've spent together and the way we are together I think it's totally worth pursuing," he told her. "What are your feelings? Do you think it's realistic?"
Unfortunately for Jordan, Bibiana couldn't give him the commitment guarantee he was looking for. "I don't think I'm at a place right now where I can answer you," Bibiana confessed to him before breaking down.
Because the two of them weren't on the same page, Bibiana packed her bags to go and Jordan left in tears. Hey — not all reality TV couples get to a point where they're both willing to take things to the next level right away. Timing matters.
Jordan may have had his heartbroken on Winter Games, but it doesn't sound like he regrets what he went through. He told ET:
I did get the experience I hoped for on the show and the highlight was being emotionally mature, vulnerable and allowing someone to connect with me on that level. [After] the whole sh**show of my experience in New Zealand, it felt like an important step to go there and have a moment of just enjoyment and putting my heart on the line. There were times I would go into interviews and be smiling ear-to-ear because I was just so happy. Maybe that's my motive for spending more time in America. My time in LA will tell if I'm going to make a jump over longer-term.
Jordan ended up giving his crucial rose to Shushanna on his first night of BiP, so perhaps they'll explore what they've got going on as his time in Mexico goes on. Like he said, he didn't come on the show to "f*ck spiders," which is apparently a term from down under that means he's not messing around. Noted. Welcome to Paradise, Jordan!