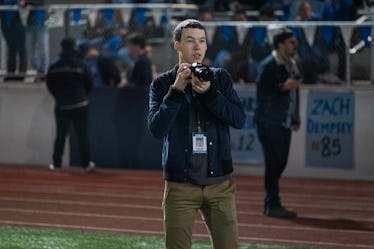 This '13 Reasons Why' Season 3 Cliffhanger Has Fans Worried About Tyler
David Moir/Netflix
This post contains spoilers for Season 3 of 13 Reasons Why. After essentially being a human punching bag for the first two seasons of 13 Reasons Why, Tyler Down learned to fight for himself in a healthy way in Season 3. Thanks to Tony's boxing lessons and guidance from his other friends, Tyler began recovering from his destructive mindset, but what happened to Tyler's guns in 13 Reasons Why? The finale hinted that his weapons still have the power to haunt him.
Season 2 of the hit teen drama ended on a distressing cliffhanger when Clay Jensen (Dylan Minnette) managed to disarm Tyler (Devin Druid) and talk him down from starting a shooting at the Spring Fling. Tony Padilla (Christian Navarro) whisked Tyler away to safety, but as police sirens approached the school, Clay was still there with Tyler's gun in hand. But upon its Aug. 23 release, Season 3 clarified that Clay also escaped the scene while Tony convinced Tyler to relinquish full supply of weapons.
As the season's post-Spring Fling timeline explained, Clay recruited his friends to watch over Tyler and help the outsider develop a calmer frame of mind in order to keep others from finding out about his horrific plans. However, following the murder of Bryce Walker (Justin Prentice), Tyler revealed that he had kept one gun in his possession after turning the rest over to Tony and Clay. At first, police incorrectly reported that Bryce was shot, so the kids in the know about Tyler started suspecting he was the killer.
It turned out, Tyler only kept the gun because he thought he might use it on himself, and he wasn't the one behind Bryce's death. After Zach (Ross Butler) left Bryce beaten on the pier, Alex (Miles Heizer) and Jessica (Alisha Boe) arrived to receive Bryce's tape of his apology for her rape. While Jessica refused to help the weak Bryce get home, Alex began to assist him. However, Bryce voicing revenge against Zach and accusing Jessica of setting him up triggered Alex to push him off the pier.
When the truth spilled among the core group, Ani (Grace Saif) led the plan to frame Monty (Timothy Granaderos) for Bryce's murder. It worked, and Monty later died in prison, seemingly closing the case forever. But on top of Monty's secret hookup confronting Ani about knowing he was innocent, a fisherman found Tyler's guns in the river, where Clay and Tony had discarded the stash after Spring Fling.
No surprise, but the kids tying up loose ends at Season 3's conclusion might have been too good to be true. Over the course of the season, Tyler learned to forgive himself and make positive changes, but authorities possibly linking the guns to him could definitely cause a mental setback.
With high school graduation likely being the focal point of 13 Reasons Why Season 4, it should be time for new beginnings, but the fisherman's discovery seems to point toward the past returning in full force. Seeing as 13 Reasons Why has never been about the fun side of high school, Season 4 probably won't revolve around prom dates and college acceptances. Given Tyler's Season 3 fear of his past reemerging, he might not be out of the woods just yet.
Season 3 of 13 Reasons Why is currently streaming on Netflix.
If you or someone you know is seeking help for mental health concerns, visit the National Alliance on Mental Health (NAMI) website, or call 1-800-950-NAMI(6264). For confidential treatment referrals, visit the Substance Abuse and Mental Health Services Administration (SAMHSA) website, or call the National Helpline at 1-800-662-HELP(4357). In an emergency, contact the National Suicide Prevention Lifeline at 1-800-273-TALK(8255) or call 911.