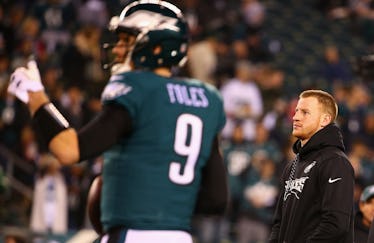 What Happened To Carson Wentz? The Player's Injury Is Costing Him The Super Bowl
Mitchell Leff/Getty Images Sport/Getty Images
No one expected the Eagles to go to the Super Bowl. Not that they didn't play well during the regular season, proving to be the brightest team in the NFC. But when disaster struck their quarterback, Carson Wentz, back in December during the waning days of the regular season, it seemed like their chances of getting through the playoffs suddenly went from Super Bowl shoo-in to slim-to-none. What happened to Carson Wentz? How did the Eagles manage to come back from what should have been a season-ending injury to their team?
Football is a team sport. A team can have a spectacular defense, but that won't win them games until the offense can match it. That being said, there are point positions which matter more than others, and none more so than the quarterback, who functions like the on-field general. For instance, the Eagles' opponents, the Patriots, are on their way to their seventh Super Bowl under quarterback Tom Brady, five of which they've won. While it is all facets of the team working together that get them there, Brady is the one who gets the credit when they win and the blame when they lose.
Carson Wentz hasn't been at this nearly as long as Brady. He was drafted in 2016 and was supposed to be the backup quarterback last year, sitting and learning. But things changed quickly. He was starting quarterback by September. It wasn't a winning record (7-9) but considering it was his rookie season — not bad.
This year, everything changed. Wentz found his groove and took the Eagles to a 13-3 record, tying the team's best record set in 2004. Fans and sports critics alike fell in love with him, his swagger and his on-field smarts, a welcome relief in a year dubbed "a dreary NFL season," in the words of the Washington Post... until he hobbled off the field in Week 14 of 16, with an injury to his knee. As The Washington Post put it,
He gave fans both in Philadelphia and across the country reason to watch. He was the breakout star of the season, a rocket-armed 24-year-old who came from North Dakota to take over the NFL and duel with Tom Brady for the MVP. This season in the NFL, when a player seems too good to be true, the sport has made sure he is.
Wentz had torn his ACL, a season-ending injury. The high-flying year that the Eagles were having seemed to be crashing. Wentz, who had spent all season hurling himself into danger like he was invincible, suddenly discovered he was all too mortal. Suddenly, the Eagles' starting quarterback was another mostly untested name, Nick Foles. Foles had started a few times for the team, but never in such high-pressure situations. They were going to the playoffs, that was already guaranteed. But chances of them going much farther seemed grim.
But Wentz was undaunted. He had surgery as soon as possible to get right onto the healing and rehab portion of the program and posted a message to Twitter fans that this was far from over.
Wentz's fire has been contagious. The sudden switch to hardcore underdog status for the Eagles gave them a reason to prove everyone wrong. The playoffs came, and they kept getting back up, even facing down teams with bigger Cinderella stories, like the Vikings coming off their Minnesota Miracle.
Now, everyone is rooting for the Eagles as they face down the ultimate overdogs, the New England Patriots, and the seemingly unstoppable Tom Brady. Can they do it without Wentz? Sadly, they'll have to. We'll find out how it goes on Sunday.
The Super Bowl airs Feb. 4, 2018 on NBC at 6:15 p.m. ET.