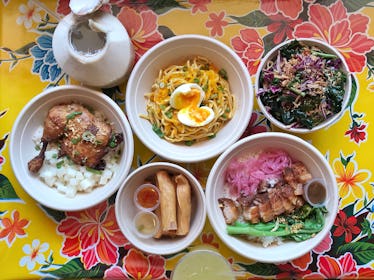 The Difference Between What Food Influencers Eat On Instagram Vs. Real Life
Scrolling through Jessica Hirsch's Instagram account is like falling into a rabbit hole of comfort food. There's caramel dripping onto French toast, a fork lifting sauced-up strands of spaghetti, and, more recently, a cheese-stuffed hash brown being cracked open by Hirsch's perfectly-manicured nails—glossed, of course, in a millennial-approved shade of blush.
But true to her handle — @cheatdayeats — not every meal is one laden with cheese and sugar and bacon, even if that's what her daily posts lead Hirsch's 370,000 followers to believe.
"I actually eat a lot of food that doesn't show up on my feed," says the math teacher-turned-social media star. "I love to start my day with oatmeal that has protein and a banana, and I often have a salad with flax bread and hummus for lunch."
These healthy combinations are a far cry from her public "cheat days," or the extravagant meals featured on her other account @yourroomservice. Those photos feature Hirsch in dreamy locales — Greece, Vienna, the Maldives — often curled up in a cozy white robe with a luxurious spread fanned out in front of her. Of course, dinner isn't wheeled in under silver cloches once Hirsch is back in New York City, where meals (the ones at home, at least) are far more low-key.
"When I'm not dining out, I do cook, but truthfully, I keep it super simple," she admits. Her dishes of choice are usually roasted vegetables, salmon and chicken. "It doesn't sound exciting, but I love it."
Fellow New York influencer Mike Chau, the dad behind @foodbabyny, agrees that most of his home-cooking is not quite #foodie approved.
"We normally try to eat healthy during the week, which includes salads or fish and steamed vegetables we prepare at home," reveals Chau, who became a social media sensation with 278,000 fans for sharing fun photos of his kids, Matthew and Samantha, with the city's hottest eats. "The great thing is that, in spite of what trolls on Instagram believe, the kids love to eat the same healthy stuff we do, so they get a balanced diet at home, as well."
The same holds true for Michel Phiphak, a Los Angeles 'grammer who has captured the attention of 247,000 followers with his snapshots of drool-worthy calorie bombs. He has a knack for seeking out the extravagant — think: red velvet cupcakes topped with flan, fries dusted with powdered Hot Cheetos, and soft serve swirled into churro bowls. It may come as a surprise to Phiphak's fans that his diet isn't all waffles, burgers, and fried chicken.
If you look closely, healthier eats have popped up a handful of times on @foodwithmichel, like a poke bowl and rose-infused water at Santa Monica's Sweetfin or matcha lattes at Laguna Beach's Urth Caffé. And though it looks like he's always dining out, Phiphak actually prefers to cook when he's not running from donut shop to barbecue joint to the occasional McDonald's.
"I'll grill up burgers, have taco nights at my place or even attempt meal prep to help me feel healthy," he says. "Cooking at home is always nice because you control what goes in the food."
The other reason why certain lighter foods don't make it up onto his account is less about well-being and more about strategy. As content creators, influencers know their audience and tailor their feeds for maximum likes, so even though Phiphak personally adores sushi, the raw fish rarely garners a coveted photo spot.
"I love sushi, but it doesn't perform well, so I'll usually toss sushi up on my Instagram Story. Oysters are another thing I like to eat, but let's be real, it doesn't look all that appealing!"
Misconceptions that Instagram feeds are a real-time food diary can be hard to shake, but it's one that Nastassia Johnson — the Los Angeles native behind @letmeeatcake — is happy to fuel. "Some people really think I'm made of only cake and I love it," she says. "It's fun."
On social media, Johnson rarely strays from her central focus on all things sugar. There are some savory eats from back when Valencia filters (remember those?) and borders were all the rage, but her very first post? A milkshake capped with a heaping mound of whipped cream.
"I've always had a huge sweet tooth," she says. "I usually order dessert first. I actually think it's a great way to get your appetite going. Once I have sweet, then I want savory."
Her sugar intake is less extreme than her account suggests. "I definitely don't eat 15 desserts a day, even though it might seem that way," she says with a laugh.
When Johnson isn't wandering LA and beyond on sugary exploits, her 88,500 followers can probably find her at a local Mexican restaurant chowing down on tacos just as enthusiastically as she eats cake.
"I love Mexican food," she says. "I think that's just from growing up in LA. It's always been a big part of my diet. I'm also half-Filipino and I love Filipino food and until recently, it was only really something you had at home or at your aunt's house, and now there are so many great Filipino options in LA. There's a place I love frequenting in Chinatown called Lasa and they make the perfect adobo bowl."
She's no dessert snob, either. While it's easy to think that Johnson's extensive dining resume means she prefers "fancy" desserts, that's not the case. She's just as happy digging into a pint from the supermarket as she is sampling carrot cake soft serve at Magpies.
"Last fall, I took a trip to Japan. It was my first time flying business and for our dinner, it ended with a Häagen-Dazs hot fudge sundae and I was so happy, I asked if there was an option for a second sundae," Johnson reminisces. "It's my number one go-to. I've been talking to [Häagen-Dazs] and I want to be an ambassador so badly because I love them so much. They're like 'Thanks for being a fan. We'll send you a few,' and I'm like, 'No, you don't understand. I tell everybody it's the best ice cream.'"
It's unexpected statements like those that show us what life behind these highly-produced, carefully-curated feeds is truly like.
"While it might not seem to from my page, I try and practice balance," says Hirsch of @cheatdayeats. "I love healthy food almost as much as I love comfort food. Roasted seasonal veggies or a chia bowl make me happy—although a pepperoni slice has a slight edge on that!"