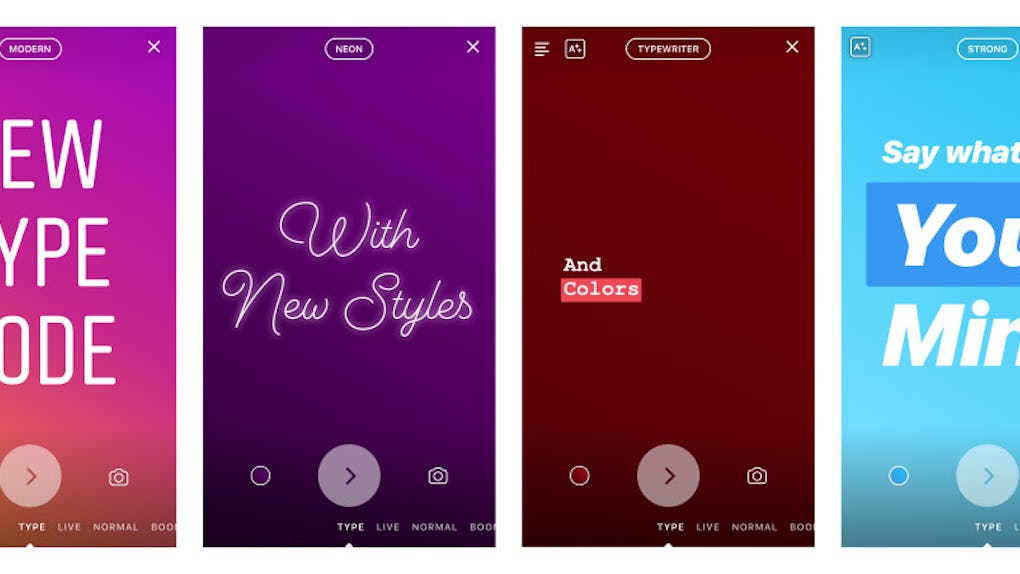 Instagram
What Fonts Are Available For Instagram Stories? The Options Are So Much Fun
After the somewhat infamous Snapchat update, everyone on social media knows at least one person who ditched the app in a panicked state of fury (looking at you, mom). But in the last few months, Instagram truly stepped up their game in the realm of decking out IG Stories. Aside from adding a ton of GIFs and Superzoom video filters, they've also given users the gift of hella cool fonts. And if you haven't already done yourselves a favor by using Type Mode, you're probably wondering what fonts are available for Instagram stories. As the kids say, the options are seriously "fire," or whatever.
In the past, Instagram Stories had always been pretty fun to post. There were a few fun filters that could put rainbows or hearts on your face, but in reality, adding text was a real drag. While you could type in a few nice colors, there was only one super basic font that IG fans could use — and TBH, thinking about it makes me upset. Was that Arial? Or was it Arial Black? I don't even know — I didn't major in fonts, but boy was it basic. I get sleepy even thinking about it. Luckily, Type Mode gives us several cool IG story font options, and if you haven't already seen 'em, they're pretty glorious.
Neon
Neon is a super fancy-looking loopy script font, and using it makes me feel like a damn queen. Seriously, I'm feeling the most regal I've ever felt before. Maybe you're eating yourself into oblivion at a fancy AF bottomless brunch, or maybe there's a chance that you're ironically having one of the most ratchet nights out of your entire life. Either way, use the Neon font whenever you're feeling like Beyoncé, because I think all of us need to at some point in our lives. It's applicable to pretty much anything, so go get 'em, your highness.
Typewriter
If you've ever used Typewriter in any of your IG Stories, you probably either transformed into some sort of Tumblr celebrity, a literal Shakespeare reincarnation, or a starving artist of some kind. Typewriter makes all of your IG photos look like dramatic and intellectual pieces of damn art, and if you've ever had the guts to use it, I salute you. If you do decide to post it to your IG story, though, I just want to warn you of the potential raging fans that might line up outside your apartment door... just saying.
Strong
Emphasizing anything over social media can be kind of difficult, unless you decide to use a thousand exclamation points, or if you consistently write in all caps (see my Twitter). But if you have a lot of feelings and if you want to convey that EXCITED tone that's always boiling inside of you, then Strong is probably your ideal IG font. In bold and slightly-italicized giant lettering, you can get pretty much anything across, without those excessive punctuation marks or capital letters. The Strong font truly says it all, and it's personally what I need in my everyday life.
Modern
I've personally never attempted to design an album cover for an indie rock band, but if you're the type that might do so, Modern could be the IG font of your dreams. It's artsy, it's minimalist, and it's the simple beauty that'll make all of us look like we're posing for a band that has banjos, fiddles, and all of that good stuff. It's an all-caps font with tastefully rounded edges (ahem, not Comic Sans), and it seriously speaks to my entire Discover Weekly playlist on Spotify... for real, I'm so into it.
No matter what you're feeling, Type Mode fonts come in clutch to emphasize your Instagram stories. Each of them are different and hella fun, and although I wish they entered my life, like, five years ago, they were definitely worth the wait.