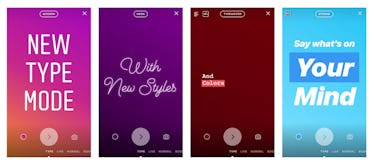 Here Are The Fonts Available For IG Stories, In Case You've Been Missing Out
After the somewhat infamous Snapchat update, everyone on social media knows at least one person who ditched the app in a panicked state of fury (looking at you, mom). But in the last few months, Instagram truly stepped up their game in the realm of decking out IG Stories. Aside from adding a ton of GIFs and Superzoom video filters, they've also given users the gift of hella cool fonts. And if you haven't already done yourselves a favor by using Type Mode, you're probably wondering what fonts are available for Instagram stories. As the kids say, the options are seriously "fire," or whatever.
In the past, Instagram Stories had always been pretty fun to post. There were a few fun filters that could put rainbows or hearts on your face, but in reality, adding text was a real drag. While you could type in a few nice colors, there was only one super basic font that IG fans could use — and TBH, thinking about it makes me upset. Was that Arial? Or was it Arial Black? I don't even know — I didn't major in fonts, but boy was it basic. I get sleepy even thinking about it. Luckily, Type Mode gives us several cool IG story font options, and if you haven't already seen 'em, they're pretty glorious.