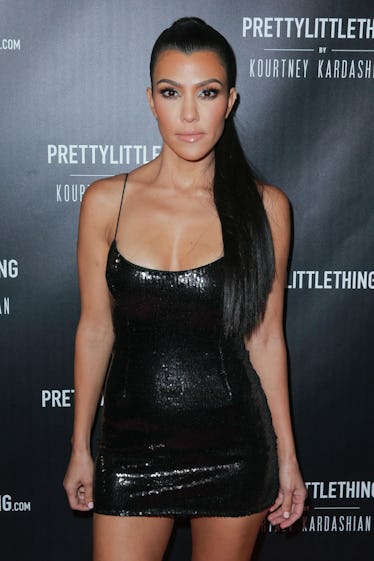 Kourtney Kardashian Is A Lot Busier Than Kim & Khloé Would Have You Believe
Rich Fury/Getty Images Entertainment/Getty Images
Celebrity relationships and friendships are a rare breed. These famous faces have their lives played out in front of the masses, whether it's the good, the bad, or the straight-up shady. In Elite Daily's new series, It's Complicated, we're highlighting the biggest celebrity "feuds" that took over Hollywood and dominated our Sunday brunches for weeks on end. We'll take a deep dive into the lives and social media feeds of our favorite stars and dissect what happened in front of the camera, what went down behind the scenes, and everything you might have missed in between.
Kourtney Kardashian is a very busy woman, no matter how much her sisters try to convince you otherwise in Season 15 of Keeping Up with the Kardashians. Now that the new season is well underway, fans are starting to see the underlying tensions of Kourtney Kardashian's relationship with Kim and Khloé... especially where work is concerned. But what does Kourtney Kardashian do, exactly? If you follow her on social media, you know that traveling and being a mother are her passions. But what else is there?
According to Money, Kardashian's net worth is hovering right around $35 million. She's super rich, basically, and that means she's doing way more with her life than simply appearing on a reality TV series and traveling the world. Here's what you need to know about how Kardashian brings in all that cash.
She was an executive producer on KUWTK.
And that accounts for a huge chunk of her wealth. Kardashian served as an executive producer in 2015 and 2016, so she brought in a lot of dough during that time period. And let's not forget that she's been a star on the show for over a decade. That's a huge time commitment as well. It's her life's work... just as it is for her siblings.
She has loads of endorsement deals.
Like a lot of people in her family, Kardashian is up to her neck in endorsement deals, so she brings in a lot of cash that way.
Now, what exactly does an endorsement deal entail? Well, it's a bit unusual. In some instances, all Kardashian needs to do is post an #ad to Instagram. Like this one with (now ex-boyfriend) Younes Bendjima for Calvin Klein.
Yep, she gets paid for that. Which means it's work. Which means that yes, Kardashian essentially does that for a living.
She's starting her own cosmetics line.
Back in January 2018, Kardashian filed legal documents to trademark "Kourt" under the "Goods And Services" category. The paperwork was filed in Los Angeles under her company 2DIE4KOURT. While the beauty line has yet to launch, Kardashian is presumably working hard behind the scenes to get everything just right.
In the meantime, she partnered with her sister Kylie Jenner to launch a collection of lipsticks and palettes with Kylie Cosmetics in April 2018. So, she is definitely more than dabbling in makeup at this point. The world is just waiting for her to launch her own line. And after she does that, can anyone really say that Kardashian doesn't actually do anything? Nope!
Needless to say, this Kardashian sister has her hands full with multiple business ventures. So, you can definitely say she "does" something to earn her keep in this world. All those Kardashian-Jenner kids work hard. They wouldn't be driving the celebrity news cycle if they didn't.
What it all boils down to is that Kardashian keeps a relatively low profile in terms of her professional endeavors. And that's a totally respectable way to handle business. Just because she's not flaunting it all the time doesn't mean she's not getting stuff done. So, when it comes to Kourtney Kardashian and how she makes her living, I guess you could say it's really not that complicated.