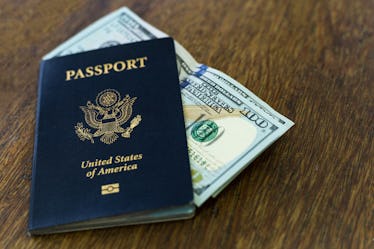 Renewing A Passport Is About To Get Even More Expensive, So Be Prepared
If you regularly find yourself bitten by the wanderlust bug, then you probably have a passport that is quickly filling up with stamps and memories from your trips abroad. Whether you need to renew it because you're running out of pages or because it's simply nearing the expiration date, renewing your passport is a necessary step to keep all your travel dreams alive. You might have a few questions, though, if you're renewing it for the first time. So, what does it cost to renew a passport?
The bad news about renewing your passport is that the price to do so is about to go up in April, but the good news is that there is a way to avoid it, according to Travel + Leisure. Currently it'll run you $110 and a $25 execution fee if you want to renew your passport an official passport agency, so in total, you pay $135 for a fresh set of passport pages. Beginning on April 2, 2018, the price of an execution fee increases to $35, bringing your total to $145.
OK, so it's only a $10 increase, but ten bucks is ten bucks. And you're about to embark on some super cool intercontinental travel, so you probably want to save every penny that you can.
If you're looking for savings on the passport renewal process, then turn to the United Sates Postal Service (USPS). You can sidestep the execution fee altogether when you renew your passport by mail. There are a few conditions you have to meet in order to be eligible for a mail-in renewal, but you can easily check out the list of requirements on the U.S. Department of State — Bureau of Consular Affairs website.
As long as you qualify for the "snail mail" renewal method, then all you need to do is fill out the DS-82 form (also available on the Sate Department website), and round up the rest of the necessary application materials. You're required to send in your current U.S. passport, photo, any applicable name change documents (only if your name has changed, of course), and the $110 application fee. To pay this bargain renewal fee to Uncle Sam, address either a personal check or money order to "U.S. Department of State."
Once you have all of your required documents and money ready, you'll mail it off via USPS only to one of two National Passport Processing Centers depending on where you live. You can find both addresses on the State Department website. To give you a heads up, California, Florida, Illinois, Minnesota, New York, and Texas residents mail their passport renewals to the Irving, Texas location, and residents in any other states (plus Canada) send theirs to the Philadelphia, Pennsylvania location.
After you've done all of your work for the renewal process, the only thing left to do is wait. The standard wait time is 4-6 weeks for a passport renewal. If you're a procrastinator like me (nothing like a last-minute runaround), then you can shell out $60 for an "expedited" renewal. The expedited time by mail is 2-3 weeks. You'll follow the same steps for mailing in the "standard wait time" passport renewal, but you need to add in the $60 for the quicker turnaround and make sure that you clearly mark "EXPEDITE" on the outside of the envelope.
It's good to know this kind of passport information, because chances are you'll need one even if you don't have a trip outside the United States planned. Thanks to the REAL ID Act (which was passed by Congress in 2005 and put into effect for nine U.S. states on Jan. 22, 2018), some state-issued driver's licenses no longer meet federal security standards and are not accepted by the TSA. In those cases, you'll need a passport just to get through security if you're flying to Kentucky, Maine, Minnesota, Missouri, Montana, Oklahoma, Pennsylvania, South Carolina, and Washington.
Don't fret over any passport problems, though, because now you've got the passport renewal process on lock. Plus, you know how to save a few bucks by mailing in your renewal, so your vacation is already off to a great (and thrifty) start.