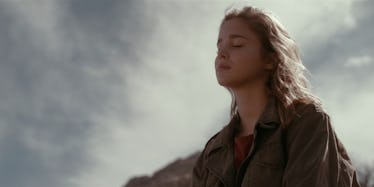 These Hidden Messages In Netflix's 'Warrior Nun' Titles Are Blowing My Mind
Netflix
Warrior Nun is a strange mashup of a superhero comic and Catholic fairy tale. Set in present-day Spain, the series revolves around the titular Warrior Nun, a woman of faith who is powered by having an angel's halo embedded in her back. Surrounded by the Order of the Cruciform Sword, women of the cloth taught to fight like ninjas, the Warrior Nun battles demons here on earth to keep humans safe. But Warrior Nun, as a series, has some eccentricities. For instance, Netflix's Warrior Nun episode titles' meanings, which are all taken directly from the Bible.
Warning: Minor spoilers for Warrior Nun follow. For those who grew up with religious education, the Bible's "chapter and verse" structure will be familiar. But even for those who don't, short-handing certain famous lines by referring to them by section, chapter, and verse has permeated Western culture. (Think of people holding up signs at sporting events that read "John 3:16" or seeing cars with bumper stickers that say "Psalm 23.")
This shorthand is exactly what Warrior Nun has adapted for its episode titles. But these are not Bible passages selected at random. Each of them summarizes the theme of the episode in question. By knowing the verse to which the show refers, fans can get a sense of what lies ahead for Ava and her friends in each episode before they watch.
Here is a breakdown of every episode title, and the verse mentioned in it: