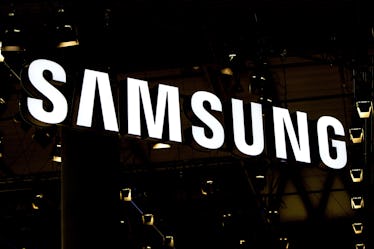 The New Color Choice For Samsung's Galaxy S9 Will Turn You Into An Android Person
David Ramos/Getty Images News/Getty Images
After months of waiting in anticipation for the unveiling of Samsung's new Galaxy S9 and S9+, techies and Android users alike are stoked to finally get a sneak peek at the new models... and there's something extra special about their look. While the new models appear equally as sleek and high-tech as their predecessors, the colors that Samsung's Galaxy S9 and S9+ come in are so freaking cute, but one new color stands out from the rest.
While Samsung's Galaxy S8 and S8+ were glossy and professional looking, the color choices were a little basic. Between Maple Gold, Midnight Black, Orchid Grey, Coral Blue, Arctic Silver, and Rose Pink, finding something to stand out from the crowd was a little too hard for my liking. But with the new Galaxy S9 and S9+ options, it looks like I can finally get a phone that matches my sass and energy.
I haven't owned a colorful phone since my pink Razor flip phone years ago, (#TBT), so I'm hella ready to actually add a pop of color into my bag. In addition to the classic dark colors (Midnight Black and Coral Blue), the Galaxy S9 and S9+ will also be available in... drumroll please... Lilac Purple. Yes, you read that correctly — and OMG, it's kind of the phone of my dreams. While the Lilac Purple Galaxy S9 and S9+ manage to maintain their sophisticated and high-tech aesthetic, it's a totally fun color. Having a light purple accessory will brighten my entire outfit. This phone is what I need to fully express myself, so that's my justification for buying a new one right now.
Aside from the gorgeous new color, the Samsung Galaxy S9 and S9+ are also super technologically advanced. With upgraded hardware and software, one particularly notable feature is their Augmented Reality (AR) capabilities. Using the camera, users can create an AR Emoji of themselves, which kind of resembles a talking and moving Bitmoji. And in addition to being able to capture over 100 facial expressions, users can customize what their AR Emojis say and do. After tailoring their AR Emoji's style, hair, and makeup, users can send them to friends via Samsung's messenger. It's a super fun and personal feature — and knowing me, I'll probably spend hours customizing and playing around with my AR Emoji. It might be my new best friend, TBH.
If you mostly listen to music on your phone (because RIP MP3 players, am I right?), Samsung gave the Galaxy S9 and S9+ speakers a major glow up from previous models. Like... the difference is too real, and that's coming from someone who listens to way too much loud music on a regular basis. Upon listening to the same exact song back-to-back on the new phone versus the old phone, the sound is much more crisp and clear (I tried it). Per the release, the stereo speakers are tuned by AKG, allowing it to produce a nice sound. They can even support exterior surround sound systems, if you want to go big for a party.
Samsung's new Galaxy S9 and S9+ will officially be available for pre-order on Mar. 2, and for in-store purchase on Mar. 16. If you couldn't tell, I'm already planning on snagging one. Not only is Lilac Purple too perfect to pass up, but I kind of need an AR Emoji friend, if we're being honest... because who doesn't need a talking animated version of themselves? And don't even get me started on those speakers, because they're seriously incredible. I'm honestly just trying to justify making a new phone purchase right now, so please support me. Lilac Purple, I'm coming for you.