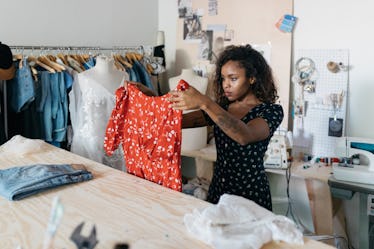 8 People Reveal The Clothes They Bought For Their First Job & It's Time To Go Shopping
I can remember the exact phone call between me and the HR rep of my first big-girl job when she offered me the position. I'd be serving as a beauty editor in the big city, with a corner office and corporate business card to boot. I had the drive, the confidence, but definitely not the wardrobe. I was an intern for the company back in college, so when it came to knowing what clothes I should buy for a first job, I was lucky enough to be somewhat ahead of the game, even if my bank account wasn't up to speed.
When you're fresh out of college, though, your income is rarely as dreamy as that first offer letter, so it's not always easy to splurge on a professionally decked-out wardrobe. If you've yet to be exposed to that kind of atmosphere, you might not even know what falls under office-appropriate attire. So what's a girl to do with a lack of cash and zero info?
Your first order of business when figuring out what clothes to buy for a first job is to check your bank statement. This may very well be a sad activity, but figuring out how much you can afford to spend is a crucial, all-too-necessary step. Then, after you make a budget for yourself, the fun part can begin.
Make a list of stores to go to that are realistically within your price range. As much as I love the aesthetic of places like J.Crew and Club Monaco, spending $70 on a single blouse just wasn't going to happen for me in the near future. The smartest way to shop, at least initially, is to know your limitations and stick to them. As for how you shop and what to shop for, it's really going to depend on a) your company's dress code and b) what fashion sense means to you.
To get you started, Elite Daily asked the following women how they went about shopping for their first jobs. They got through it, and so will you, no matter the circumstances.