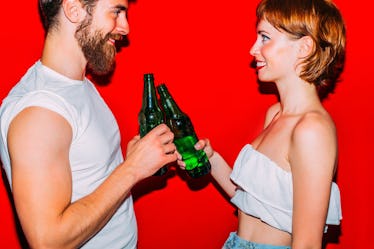 7 Men Reveal What First Attracted Them To Their Partner & It'll Make You Melt
It could be something as simple as a witty remark, or an infectious laugh. Or maybe it's how motivated she is at work, or the fact that she still makes time to volunteer even when she's swamped with her job. When it comes to what attracts men to women, it can range from enticing physical qualities to impressive personality traits.
Research has shown that men find a number of different characteristics to be especially attractive, though. For example, women who make eco-friendly purchasing decisions are seen as more desirable, according to one 2016 study published in the Journal of Social Psychology. A study in Evolution and Human Behavior also revealed that men are also more attracted to women who laugh at their jokes (never hurts to stroke the ego). Additionally, long locks are most likely to catch a guy's attention, according to some 2004 research in Human Nature. And one study published in the Journal of Personality and Social Psychology showed that guys tend to gravitate toward women wearing red.
Still, attraction is a complex concept, and what makes one person's heart skip a beat might go totally unnoticed by another. So I asked men what drew them to their current partners, and spoiler alert: The responses ran a lot deeper than a jaw-dropping body.