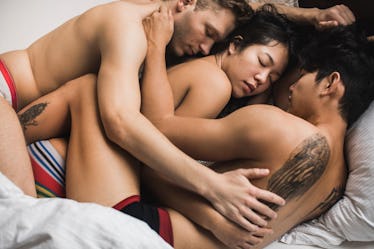 6 Women Reveal What Their First Threesomes Were Like, & Did It Just Get Hotter In Here?!
As someone who's never had a threesome, I can attest to the fact that the concept can be a little daunting. And it's not that I think there's anything wrong or bad about them. It's more just that I'm not really sure what I should expect. And can you blame me? The only place threesomes seem to be normalized within the American culture is porn, and I know that can't be an accurate depiction so I'm left wondering: What are threesomes like?
As someone who never learned about them in sex ed, never saw them played out in movies or on TV (except for that one low-key sad episode of Entourage), and doesn't have any friends who have had them, how am I supposed to know what they're like? Well, luckily, a recent Reddit AskWomen thread is here to clear some things up. In the thread, ladies share their own personal experiences with having threesomes, and here, I share their best, most informative responses with you. Go forth and learn, my people!