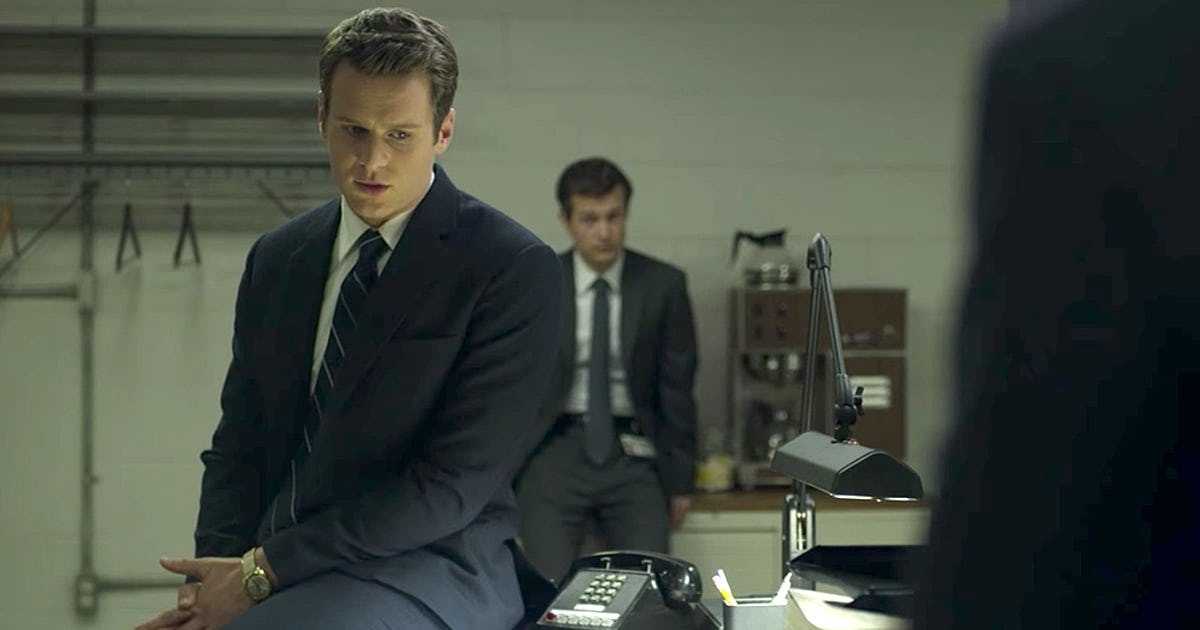 'Mindhunter' Season 2 Will Deal With These IRL Murders & Here's What You Should Know
Netflix
After dealing with some of the most notorious serial killers of the 1970s in its first season, Mindhunter fans may be wondering what infamous based-on-real-life crimes FBI agents Holden Ford and Bill Tench will be investigating in Season 2. Well, the good news is that showrunner David Fincher already let the subject of Season 2 slip, and it is another major true crime story that is still unsolved to this day. Here's everything you need to know about the Atlanta child murders before Mindhunter Season 2.
David Fincher, an executive producer on Mindhunter, spilled the central crime of next season while Season 1 was still fresh on everyone's Netflix queue. A couple months back, Fincher let it slip in an interview with Billboard about the music on the show that Season 2 will focus on the Atlanta child murders. The revelation also seemed to confirm that Netflix may have already picked up the series for a second season before the first one even aired, long before that Season 2 pick-up news was made public by the streaming service just last week. While wrapped up in talking about the music and scoring in Season 1, Fincher mentioned that the music will change in the second season to reflect the new setting in Atlanta:
Next year we're looking at the Atlanta child murders, so we'll have a lot more African-American music which will be nice. The music will evolve. It's intended to support what's happening with the show and for the show to evolve radically between seasons.
The new crime also fits with the show's time frame. Season 1 took place in 1977, and the Atlanta child murders spanned 1979 and 1981, so Season 2 will probably include a small time jump to find our FBI investigators at the very end of the '70s or start of the '80s. It will also head down south to Atlanta, as opposed to the first season, which was largely set in Washington D.C.
Now let's break down what the Atlanta child murders were. The first thing to know is that the name is actually pretty misleading — although many of the murder victims were children, several of those killed were also adults. Over two years in Atlanta, Georgia, 28 African American children and adults were mysteriously murdered. The local police finally got a break in the case in 1981, when they observed a 23-year-old man named Wayne Williams driving away from a lake after hearing a splash. A couple weeks later, authorities found a dead body right around that area, and brought Williams in for trial.
The evidence against Wayne Williams was circumstantial, but very convincing. Fibers from the back seat of his car matched those found on some victims, a cord in his car matched the choke marks found on some victims, and Williams admitted to being a music scout who spent much of his time seeking out and auditioning young African American children around the ages of most victims. All of this led to a conviction, and Williams is still in prison to this day, now 59 years old, and continues to assert his innocence.
The part that will probably be most interesting for Mindhunter fans is John E. Douglas' involvement in the case. Douglas is the renowned criminal profiler that Jonathan Groff's character of Holden Ford is based on in the Netflix series, and he took a particular interest in the Atlanta child murders. In his 1998 book Mind Hunter (which the show is based on), Douglas asserts that the murders were never fully solved. He wrote that he believes Williams did commit many of the murders, but that they were not done by a single perpetrator. It will definitely be interesting to see how Mindhunter handles the murders next season!