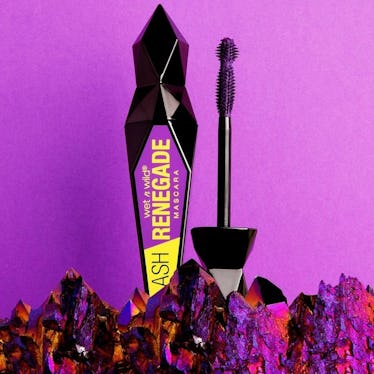 Wet n' Wild Is Repurposing Your Old Mascara Wands To Help Baby Animals In The Most Adorable Way
Calling all beauty-obsessed animal lovers! One of your favorite throwback brands has just launched the cutest charitable initiative ever that gives back to our furry friends and it's a cause you'll definitely want in on. Wet n' Wild's purple Lash Renegade Mascara benefits the Appalachian Wildlife Refuge, a non-profit located in western North Carolina that's dedicated to wildlife rehabilitation, meaning it's not only the coolest new product launch around but the most heartwarming one, too.
It's so, so awesome that brands are increasingly attaching certain products or lines with charitable initiatives and social causes. Brands including MAC, Elizabeth Arden, The Lipstick Lobby, Milk Makeup, Kiehl's, Origins, Benefit, and many, many more have all released products whose profits support everything from gun control efforts to HIV awareness and prevention and now, Wet n' Wild is joining the ranks.
The brand just launched their new Lash Renegade Mascara in Avenging Amethyst (an awesome shockingly purple shade) and have pledged to donate $1 per each product sale to the Appalachian Wildlife Refuge. They hope to have raised $10,000 by the end of August. But that's far from all. The cruelty-free brand are also launching a program wherein they collect used mascara wands and recycle them for the purpose of helping to rehabilitate animals. As Evelyn Wang, Wet n' Wild's Senior Vice President of Marketing, explains in the campaign's video, "The wands are used to remove harmful parasites from their fur and feathers. Mascara wands work well because the bristles are close together." Adorable, no?! Imagine a tiny little bird or rodent enjoying a nice brushing session from a mascara wand. Cuteness overload.
Here's how it works: Wet n' Wild will be sending out pre-paid postage envelopes to anyone who wants to send in their used mascara wands. Simply put in your used up product, send it off, and it'll be used to help groom tiny little creatures back to health. It literally could not be easier!
Incase that hasn't sold you (have you no soul?!) colorful lashes are having a major moment and Wet n' Wild's amethyst shade is the perfect way to partake in the trend. Beauty Queen Rihanna rocked hot pink lashes for her Fenty x Puma event at Coachella this year, while fashion icon Dries Van Noten sent models down his fall 2018 runway sporting not one, not two, but eight different shades of neon mascara. I can remember wearing bright blue mascara in middle and high school and while I never actually thought it would make a comeback I'm glad it has. Choose the right shade and it'll make your eye color pop, or simply opt for a hue that will turn heads from across the street. As Allure explains, there are many ways to rock the trend: "If you want to ease into the technicolor trend, layer a colored mascara over your favorite black one to add a fun tint to your lashes. Once you're ready to dive into the trend, some easy ways to try colored mascara include focusing your eye makeup only on swiping a bright purple or pink mascara on your top and bottom lashes. Alternatively, coat just your top or bottom lids with the vibrant hue of your choice. Take the trend even further by matching your liner or lipstick to your colorful mascara for a monochromatic effect. We love drawing on a liner in a complementary color of our mascara, too."
Wet n' Wild's Avenging Amethyst Last Renegade Mascara can be shopped online now for $5.99 at Amazon or in-stores at Wal-Mart and Rite Aid. $6 is a tiny price to pay to hugely impact the wellbeing of animals in need—shopping for good, indeed.