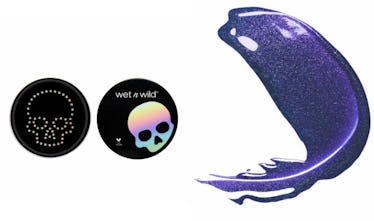 Wet N Wild Just Dropped A Holographic Makeup Collection For Women Who Don't Do Unicorns
Wet n Wild
I'm what the goth subculture would call a "preppy," but even I am freaking out over the new Wet N Wild Goth-O-Graphic vault. The box is black and has a huge skull printed on the top, and while skulls aren't exactly my motif of choice, it's holographic and I love it. The label reads "spring with a holographic edge" and before I even closely inspected the contents inside, I'm already sold. I don't care what's inside, I assume everything is glittery, shimmery and changes color with the light — I already want it.
Though I had been stuck in a makeup rut of barely-there color and nude everything for a while, I've recently been brought back to life by the holographic highlighters and duo-chromatic eye shadows from Too Faced's new unicorn collection. But while almost every beauty junkie loves the look of iridescent cheekbones and color-changing eyelids, not everyone is a fan of unicorns, mermaids and butterflies.
Thanks to the new interpretation of holographic makeup by Wet N Wild, beauty junkies with less of an affinity for cutesy packaging can still wear the trend without completely throwing off their current aesthetic. The way I see it, everybody wins!
As it turns out, the entire goth theme was inspired by social media. Apparently makeup junkies have been voicing their opinions on unicorn fatigue (the struggle is real). Unicorn-themed makeup collections dominated last year and some consumers have grown weary of the trend, desiring something less whimsical. "For every trend, there's always an opposite, and it was clear with the huge number of unicorn and rainbow-themed launches in 2017, that at least some makeup fans would be craving a more rebellious and moodier look this year," Evelyn Wang, senior vice president of marketing at Wet n Wild Beauty, told Bustle in an exclusive interview.
The brand even went so far as to throw some shade at the trend by naming a lipstick "Death to Unicorns" and even taking to social media to announce the collection with the caption, "Unicorns are so 2017. It's time to unveil your sultry side with our entrancing Goth-O-Graphic Collection. #wetnwildbeauty #gothographic #crueltyfree #makeup #beauty." If you ask me, change is always good.
So you already know what you won't be finding in the 15-piece limited-edition vault, but here's what you can expect from the goth-themed collection.
3 Mega Liner Metallic Liquid Eyeliners
Available in three shades ("Skull Prayer", "Pink Coffin", and "Black Butterfly"), these Mega Liner Metallic Liquid Eyeliners ($4; wetnwildbeauty.com) are just what you need to give your classic cat eye an update. "Skull Prayer" is a frosty holographic white. "Pink Coffin" is a soft shade of cotton-candy pink. "Black Butterfly" is a bright purple. Although there is a skull motif on the wand, so far, I'm seeing color and no black liner in sight.
4 Mega Last Liquid Catsuit Liquid Eyeshadows
I'm obsessed with liquid eye shadows. They go on so creamy and have the best pigment you can get from an eye shadow. But lately, liquid eye shadows have been packed with glitter and color-shifting shimmers and it's my new favorite kind of makeup. Available in four shades ("Pure Intension", "Mystic Dreamer", "Goth Tears" and "Nyctophilia"), MegaLast Liquid Catsuit Liquid Eyeshadow ($5; wetnwildbeauty.com) are the iridescent eye shadows of your dreams.
"Pure Intension" is the softest shade of champagne, which is perfect for those (like myself) who sometimes prefer to be a bit basic.
"Mystic Dreamer" is a pale pink shimmer that even the preppiest girl would love to swipe on her lids.
"Goth Tears," contrary to what you might be envisioning, it's a surprisingly beautiful iridescent shade of purples, blues, pinks and greens that trensform with the light.
On the other hand, "Nyctophilia" (which means a preference for the night or darkness) is exactly what you'd expect: A dark purple, almost black, shadow packed with dark shimmer.
2 MegaGlo Highlighting Powders
Give your cheekbones, brow bones, and Cupid's bow a major glow with these highlighting powders. Available in two shades ("White Raven" and "Purple Ashes"), MegaGlo Highlighting Powder ($5; wetnwildbeauty.com) gives you the same dimension and glow as a liquid highlighter in a powder form. "White Raven" is a true holographic shade with hints of purple, pink, and blue, while "Purple Ashes" is a pink shade with hints of shade-shifting purples.
1 MegaGlo Highlighting Stick
If you prefer the look of a cream highlighter (or layering the two), you're in luck. Wet N Wild's limited-edition Goth-O-Graphic vault comes with a single shade of MegaGlo Highlighting Stick ($7; wetnwildbeauty.com). Available in "Hell-O-Darkness," this pearlescent highlighter gives you statement cheekbones.
4 MegaLast Liquid Catsuit Metallic Lipstick
Who doesn't love a perfectly pigmented lipstick? Available in four shades ("Wicked Pink," "Pastel Grunge," "Gunmetal Heart," and "Death To Unicorns"), MegaLast Liquid Catsuit Metallic Lipstick ($5; wetnwildbeauty.com), gives your lips a shiny metallic finish.
"Wicked Pink" is the perfect shade of bubble gum pink infused with a shimmer that can blind even the darkest of a goth bunch.
"Pastel Grunge" is the poppiest shade of blue you can imagine swiping on your lips.
"Gunmetal Heart" is a suprisingly romantic shade that is equal parts shiny gray and pastel lavender.
"Death to Unicorns" is perfect for the glam goth in you. It's a deep navy (almost black) shade with hints of silver sparkle.
1 MegaGlo Loose Highlighting Powder
Last, but certainly not least, the limited-edition Wet N Wild Goth-O-Graphic vault includes one MegaGlo Loose Highlighting Powder ($7, wetnwildbeauty.com). Basically diamonds in dust form, this highlighting loose powder is perfect for setting your makeup with a glittery finish. And the powder-dispensing holes are placed in the shape of a skull!
If you can hardly wait to channer your inner goth and get your hands on this limited edition vault, you don't have to! Available now (at a price that can make even the darkest makeup junkie giddy inside), the Spring Season in a Box Goth-O-Graphic ($40; wetnwildbeauty.com) is just what you need to fulfill your holographic dreams.
I can only imagine that this box will go fast, so hurry up and get your hands on it STAT. The good news is every piece is also sold individually on wetnwildbeauty.com, so even if you're late to the party, you'll still have a chance to get your hands on your favorite pieces from the collection.