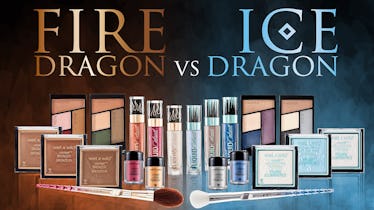 This 'Game Of Thrones' Makeup Collection Will Breathe Fire Into Your Beauty Routine
Game of Thrones isn't returning until sometime in 2019 and I didn't know how I was going to make it that long, until now. Ever queen needs proper makeup, and Wet 'N Wild's dragon collection is for your inner Khaleesi. No actual dragons included, unfortunately.
Are you a fire dragon queen or an ice dragon queen? In the world of Game of Thrones, I would sincerely hope you're a fire dragon queen because the ice-breathing dragon is a part of the Army of the Dead. Back to the real world, though. Popular cosmetics company Wet N Wild has released a dragon-themed makeup collection so you can live out all of your Daenerys Targaryen fantasies. All you have to do is decide which side of the fight you're on. What's the difference between the two, you ask? Think: warm vs. cool tones, and bronzer vs. highlighter. And if you can't decide between the two – maybe you want your bronzed cheeks to also be illuminated – you can mix and match your purchases or even buy a full box set that represents both realms.
Another added bonus to this fierce collection is that, as with all of Wet N Wild's products, everything is cruelty-free. You can rest assured, no dragons were harmed in the making of these products.
Fire Dragon Collection
Dragons were meant to breathe fire, not ice, IMHO.
The warm hues in this eyeshadow palette have a serious King's Landing vibe.
It doesn't get much easier than an eyeshadow palette telling how to apply each pan.
With three different shades to choose from, you'll be bronzed like sun. The other compacts are You're Dragon Me Down ($5; wetnwildbeauty.com) and Bronze Dynasty ($5; wetnwildbeauty.com).
Every dragon queen needs a scaled bronzer brush, duh.
Use this warm-hued powder on your eyes, cheeks, or even lips for a rosy look.
This powder on your cheekbones and eyelids would give you a seriously royal vibe.
An über-shimmery deep red lipstick that looks like a winner.
Hopefully the name of this shade refers to Cersei Lannister, not any of the Targaryens.
Add this on top of either lipstick for even more shine.
Ice Dragon Collection
The ice-breathing dragons are the villains, but they're makeup collection is on fleek.
I die for that silver pan.
That cool blue hue is fire, er, I mean, ice.
This icy blue highlighter looks like it could double as an inner eye illuminator. There are also two more silver highlighters to choose from – Winter Falls in LA ($5; wetnwildbeauty.com) and Glow Watcher ($5; wetnwildbeauty.com).
Don't forget your dragon tail highlighter brush.
Try adding this loose silver powder to your lip balm for a boost of sheen.
An iridescent blue FTW.
A beautiful blue lipstick to go with that winning powder.
Shall we slay? Yes, we shall.
Top off your look with the iciest looking product I've ever seen.
Fire & Ice Collection Box
Can't decide which side you're on? There's a box set that includes almost every product from each side of the wall.
You're the queen now. Boom.