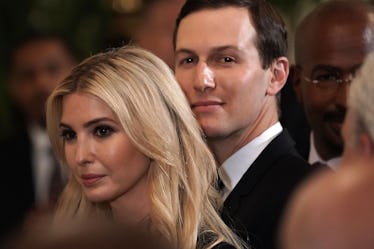 Ivanka Trump Apparently Had "Nothing To Do" With McGahn's Firing
Alex Wong/Getty Images News/Getty Images
The announcement that Donald McGahn, a top White House adviser and Donald Trump's lawyer, would reportedly be leaving his position came as a shock to everyone, especially McGahn. Since Donald Trump broke the news through Twitter, everyone has been wondering whether a few other familiar faces might have influenced the decision. So, were Ivanka Trump & Jared Kushner involved in Donald McGahn's firing? Apparently, this was entirely Trump's move.
On Thursday, Aug. 30, Donald Trump took to Twitter to let the public know that first daughter Ivanka Trump and senior adviser Jared Kushner apparently "had nothing to do" with McGahn's firing. Elite Daily reached out to the White House for further comment about Trump's decision to reportedly fire McGahn, but did not hear back in time for publication. He wrote,
Ivanka Trump & Jared Kushner had NOTHING to do with the so called 'pushing out' of Don McGahn.The Fake News Media has it, purposely,so wrong! They love to portray chaos in the White House when they know that chaos doesn't exist-just a 'smooth running machine' with changing parts!
On Wednesday, Aug. 29, Donald Trump announced via Twitter that Don McGahn, a top White House lawyer, would be leaving his position in the fall. While it's not uncommon to bid farewell to a White House adviser nowadays, McGahn's exit comes at a suspicious time, especially since he had reportedly "fully cooperated" with Special Counsel Robert Mueller's investigation by conducting over 30 hours of interviews in relation to the Russian probe. Plus, according to The New York Times, Trump broke the news about McGahn leaving before he even told the top lawyer that he was fired.
Despite the unconventional firing, Donald Trump has openly expressed his excitement about McGahn's mysterious new replacement. On Aug. 30, just moments after Trump revealed that his daughter and son-in-law were not involved in McGahn's firing, Trump tweeted about the individual who will be joining the White House team. He wrote,
I am very excited about the person who will be taking the place of Don McGahn as White House Counsel! I liked Don, but he was NOT responsible for me not firing Bob Mueller or Jeff Sessions. So much Fake Reporting and Fake News!
As the most politically-involved first daughter in White House history, it's a bit surprising that Ivanka Trump had nothing to do with the decision to fire McGahn. However, if it were up to Ivanka, I suspect she probably would have broke the news to the man himself before posting it on social media. After all, if anyone knows how to expertly avoid Trump administration drama, it's Ivanka Trump. The week of Aug. 22 was certainly one of the most stressful yet for the White House, particularly because on that day alone Michael Cohen accepted a plea deal and Paul Manafort was found guilty on eight counts of fraud. Despite the chaos erupting, Ivanka Trump tweeted about an unrelated executive order that's currently in the works.
Time will only tell who will be replacing Don McGahn and how his extensive interviews will impact Mueller's investigation. In the meantime, you can try to keep up with who's "in" and who's "out" at the White House.