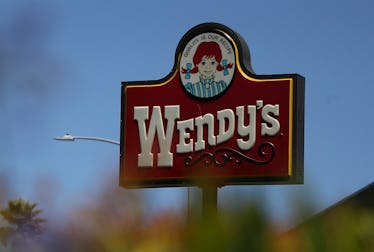 Wendy's Roasted IHOP's Name Change On Twitter, & I Can't Handle This
Justin Sullivan/Getty Images News/Getty Images
I think it's safe to say that absolutely no one has come to terms with IHOP's new name. It's just like: how could they?! After all these years of loyalty to those signature, fluffy pancakes and freshly-squeezed OJ? TBH, it's really gonna take some time to get used to, but seeing Wendy's roasting IHOP's name change has made my day a little bit better.
On Monday, June 11, IHOP announced that it had temporarily changed its name from the "International House of Pancakes" to the "International House of Burgers," to mixed reactions. Many people (self included) have been straight-up confused as to why the breakfast diner would do such a thing, some have praised the name change, and others have questioned how it will perform in competition to burger chains like Applebee's and Wendy's.
On the same day of the announcement, one Twitter user asked Wendy's what it thought of the change, writing, "so @Wendys u just gonna let @IHOb sell burgers on your block? thought you were the og?" And the burger chain's response was one of the best roasts you'll ever see. It replied, "Not really afraid of the burgers from a place that decided pancakes were too hard."
BURN! And as if that weren't already brutal enough, Wendy's kept the jabs flowing.
"Remember when you were like 7 and thought changing your name to Thunder BearSword would be super cool?" Wendy's wrote, equating the chain's move to that of a kid. "Like that, but our cheeseburgers are still better."
But it doesn't look like the pancake — uh, burger — chain is into starting things on social media. Shortly afterward, IHOb tweeted back, "We don't want any beef with you, we just want to share our beef with the world." And the two chains appeared to reach a truce.
But that didn't stop many of IHOb's other competitors from chiming in with their own jokes about the switch.
Yikes.
Whataburger wrote: "As much as we love our pancakes, we'd never change our name to Whatapancake."
In a press release shared by IHOb on Monday, June 11, the chain announced its new name was in honor of its seven new, mouth-watering Ultimate Steakburgers that are made with "100-percent USDA choice, Black Angus ground beef," and come on "a buttered and grilled Brioche bun."
In the release, Brad Haley, chief marketing officer for IHOb restaurants, opened up about IHOb's excitement to show how equally tasty its burgers are to its pancakes. Haley said:
We've pancaked pancakes for 60 years now so it's the perfect time to start burgerin' burgers, and we're kicking it off by flipping the 'p' in IHOP to a 'b' for burgers. And, when you try them, I think you'll agree with me that IHOb's new line of Ultimate Steakburgers are so good that I'd put them up against anyone's … just like our pancakes.
Chef Nevielle Panthaky, head of culinary at IHOb, also explained how much effort went into the new burgers in the release. He said, "The IHOP Culinary team took the creation of these Steakburgers as seriously as we take innovation around our pancakes, which means they're soon to become world famous, too."
The release added that the Ultimate Steakburgers are only available for a limited time (which means we'll be back to breakfast life as we know it in no time!!!), so you'd better get there soon, if interested.
IDK if you'll be running to IHOb to try the new burgers or sticking to staple burger chains like Wendy's for your lunch fix. But considering the fact that I can get a burger and my favorite dish — blueberry pancakes — at the former, I think I'll roll with them. Who's with me?