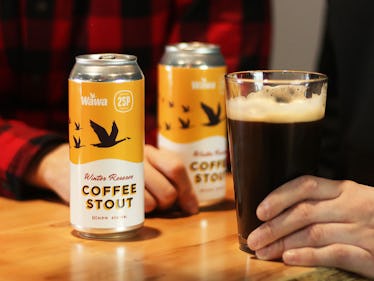 Wawa Is Releasing A Holiday Beer That's Actually Made With Its Winter Blend Coffee
Courtesy of Wawa
I grew up in New Jersey, which means Wawa has become my go-to coffee spot. Between its seasonal brews and its permanent flavors (hello, hazelnut), I can't get enough of the company's java. Believe me: I'm a frequent coffee shop goer, but Wawa's brew continue to be my favorite. That's why I'm so freaking excited for Wawa's Winter Reserve Coffee Stout beer to hit the shelves in December. Yes, I'm referring to an actual beer that's made with actual Wawa coffee. It's all happening, y'all, and I can barely contain my excitement.
Wawa's Winter Reserve Coffee Stout was officially announced by Wawa in a November 2018 press release. According to the company, the new brew was created in collaboration with 2SP Brewing Company, a brewery located in Aston, Pennsylvania. Per the release, the masterminds behind the seasonal blend are Bob Barrar, Head Brewer at 2SP Brewing, and Michael McLaughlin, Product Development Manager at Wawa. I'd like to take a moment thank those guys for the buzz-worthy concoction that I've been waiting for.
OK, now that I've showed my appreciation for the upcoming beer, let's get into details about the way it tastes. According to Wawa, the Winter Reserve Coffee Stout features flavor notes of graham crackers, dark chocolate, and sweet clove.
In other words, this oatmeal stout about to become my new favorite holiday drink. Cheers, friends.
So, how does it get those flavors? Apparently, the beer is actually steeped with Wawa's Winter Blend coffee, which is fantastic news for coffee lovers and beer enthusiasts alike. Can you imagine drinking beer that was made using your favorite coffee brew? I'm giddy just thinking about it.
Apparently, Wawa is just excited about the collaboration. Mike Sherlock, Chief Product Marketing Officer for Wawa, Inc., talked about the brew in a press release. He said,
At Wawa, supporting our local neighbors is at the heart of everything we do, which makes our special partnership with 2SP so crucial at our Chadds Ford store, our only Pennsylvania store to sell beer. We are both happy to call Delaware County our hometown and we're excited to team up to create a Winter Reserve Coffee Stout using our new limited-edition Wawa Reserve Winter Blend allowing us to add even more value to our customer experience just in time for the holidays.
OK, now you're probably curious about where you can buy the beer. (Spoiler alert: Sherlock already gave you a clue.) According to Wawa's press release, you'll have a few opportunities to purchase it. First, those living near Chadds Ford, Pennsylvania can visit the Chadds Ford Wawa location on Thursday, Dec. 6. On that day, the store — which is the only Wawa in Pennsylvania that sells beer — will host a Firkin Tapping event from 4 p.m. to 6 p.m. ET and sell cases of the beer. However, only 50 cases will be sold on a first come, first serve basis — so don't wait too long to get there.
If you end up missing out on the tapping event, don't worry. For the week of Dec. 10, cans of Wawa's Winter Reserve Coffee Stout will be available through bars and distributors in Philadelphia. However, there will only be a total of 1,000 cases available — so get them while you can.
If you score a case, drink responsibly (and let me know how it tastes). Cheers!