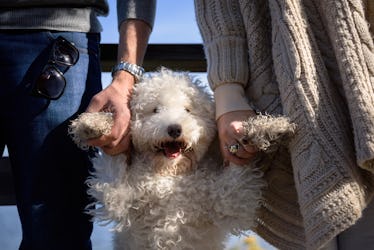 3 Signs You & Your Partner Are Ready To Become Pet Parents Together
Getting a pet is a huge step to take in a relationship. It means that you and your partner are ready to say, "Yes, we can share the responsibilities of sustaining another creature's life," which — while wonderful and exciting — is no small feat (I say this as a person who has killed no fewer than three orchids in the last six months). And, as Spiderman perpetually reminds us, "With great power comes great responsibility." So, how do you know you're ready to get a dog with your boyfriend or girlfriend and take on that great power/responsibility?
That is the question, my friends. Because pets make breakups so much more challenging.
A friend of mine recently broke up with her long-term boyfriend and told me without a hint of sarcasm in her voice that she misses his dog far more than any other part of their relationship. And I totally get it. First and foremost, animals are better than people (if Disney movies have taught me anything, it's that). But unlike sharing custody of your mutual friends, it's harder to hang out with your ex's pup post-breakup.
Let's say you and bae adopt a pet together, and then — god forbid — break up. Who will rub the spots behind Fido's ears and tell him he's a good boy in your absence?! Would custody lawyers have to get involved?
These are the types of questions I never want you to have to answer.
If you're thinking about getting a pet with your SO, here are three major signs that you two are ready to take the plunge, head to the local animal shelter (Adopt, Don't Shop, y'all!), and bring a furry new friend into your lives — according to couples who have been there.