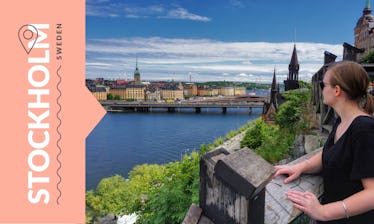 Wander or Bust: Stockholm Is A City Worth Exploring — No Assembly Required
Wander or Bust is an Elite Daily travel series that follows young women all over the globe to record their journeys as they experience the thrill of the far-flung and unknown.
They'll track their budgets, where they stay, where they eat and drink, and where they took that amazing Instagram that got them ~maximum exposure.~ The internet is full of travel advice, but none from women just like you. Read on for the tips no one else gives you, and when in doubt, get on the plane.
Here's Katie Lockhart's Wander Or Bust guide to Stockholm, Sweden.
My Name: Katie Lockhart
What I Do: I'm a freelance travel and food writer.
Where I Live: Brooklyn, NY
Where I Went: Stockholm, Sweden
How Long I Stayed: A week.
My Spending Style: Occasionally indulgent. I don't throw money around, but I will definitely splurge on more than a few expensive things on a vacation.
Where I Got My Recommendations:
I got recommendations from a friend who lives in Stockholm.
Exchange Rate At Time Of Travel: $1 USD = 8.4573 SEK
What That Looks Like IRL: $50 USD = 422.865 SEK
Preferred Payment Method: I used my credit card everywhere. Places in Sweden rarely accept cash.
Phone Bill: Same as always. I have T-Mobile and I have unlimited roaming outside of the US.
Mode of Transport: I took an eight hour flight from JFK on Norwegian Airlines.
Price: $490 round trip. I got a great deal.
Extra Costs: I took the Arlanda Express from the airport to Stockholm Central Station. It cost 280SEK or $33 one way and only took 20 minutes. Book in advance because the price goes up if you have to book on the train. Plus, there was free WiFi.
Transport Total: $523
Accommodation: We stayed in the Rival Hotel. It was very clean, modern chic boutique hotel.
Mariatorget 3, Box 175 25SE-118 91 Stockholm Sweden
Location: It is in the Mariatorget neighborhood, a hip, young area. The Hotel Rival was just a few blocks from the metro. There is also a very nice, quiet park in front of the hotel that our room looked out over. Plus, if you walk a few minutes up the hill near the hotel, you can see sweeping views of the CBD and Old Town.
Price: $300/night
Extra Costs: No extra costs I can think of.
Would I Recommend It To Someone Else:
Yes, it was quintessentially Scandinavia and the bathroom tile was heated. It was so cozy and quaint in the perfect neighborhood.
Accommodation Total: It cost around $1,800 for the week.
Breakfast-Lunch Cost: $20/day
Maybe around $10-$20 if we stopped for a snack or a drink somewhere.
Dinner Cost: $120/day
I cost around $120 because restaurants there can be very expensive, especially with the exchange rate.
Average Total Cost: $140/day
Tip Situation: No, I typically just round up to leave a little extra.
Food Situation:
The Rival Hotel has a fantastic fresh breakfast included in the price of the room. So we went down for coffee, granola, fresh smoked fish, and other American items, too. We tended to skip lunch because dining out in Stockholm can be very expensive.
Favorite Restaurant: Sandhamns Vardshus Restaurant on the tiny island of Sandhamn. We took a day trip with Stromma Tours to the island and stopped for lunch. We had the freshest shrimp salad I have ever eaten. The bread, aioli, french fries, and more were perfect sitting in the sun looking at the harbor.
Location: tiny island of Sandhamn Sandhamn 101 Värdshuset, 130 39 Sandhamn, Sweden
Price: It cost around $60 USD.
Honorable Mentions: I had never eaten shrimp that was so fresh. They also gave us a huge heap of them on top of fresh baked bread. I inhaled it!
Food Total: Around $1,000. I liked to eat out at nicer restaurants and the meals were much more expensive than at home.
Nightlife Situation:
There was a varied and popular bar scene in Stockholm. Lots of pubs with cheap beers, nice wine bars and hip cocktail bars. You could really find it all.
What People Wear Out:
The people in Stockholm are effortlessly chic. They are hip and sophisticated with little to no effort (or so it seems).
Average Cost Of A Pint: A beer cost around $7-10 USD, depending on where you go.
Extra Cost To Know About: A cab or an Uber at the end of the night.
Last Call: Bars typically close are 3 a.m., but you can find some clubs that are open until 5 a.m.
Average Total Cost Of A Night Out:
Probably around $40. I'm not a heavy drinker, so I like to have a few cocktails and then take an Uber home.
Cheapest Bar I'd Actually Go Back To:
A cheap bar in Stockholm?! Where?! Again, Stockholm is by no means cheap when it comes to going out. We did find any amazing bar and restaurant called Supper Garden. They had gorgeous outdoor seating near a fountain and a park. Here, you could get a beer for around $8 USD. I know it seems like a lot, but we were pleasantly surprised.
Going Out Total: $200
What I Spent A Lot On That Was Totally Worth It:
A day excursion to the island of Sandhamn with Stromma. They are only available in the summertime when the island is really open to tourists. It was an all day cruise through the stunning archipelagos to the quaintest, smallest island I've ever been on. We got a tour, then went for lunch and explored ourselves. It costs around $45 USD and was so so worth it.
What I Spent A Lot On That Was Totally Not Worth It:
Probably one dinner in particular cost almost $200 and I wasn't overly impressed with the food.
What I Spent Little Or No Money On That Was Awesome:
A free walking tour around the city with Free Tour Stockholm. It was a two hour free tour in English around all the best sights. We ended up just paying a $10-$20 tip.
Favorite Thing I Did, Regardless Of Cost:
The day visit we took to Sandhamn. I honestly looked up Airbnbs after because I wanted to go back and stay there.
Hidden Gem I Found:
I heard about Swedish Princess Cake from an episode of The Great British Baking Show. So when I got there, I knew I had to find it. Vete-Katten is a pretty famous cafe from the 1920s with tons of pastries, coffee, and tea. It was such a great find and I would have never stumbled across it, had I just been wandering alone.
The Photo I Took That Got The Most Attention:
Excursions/Extras Total: I spent around $60.
General Shopping: $0
Souvenirs: No, I don't really collect souvenirs.
Souvenirs/Shopping Total: $0. I'm not a big shopper, so I didn't buy anything.
Best Stockholm Hack:
Eating and going out in the city can be so expensive. Look for happy hour deals, or make sure your hotel has a free breakfast. If you can secure accommodation with a kitchen, then you can cook yourself and save some money on going out.
Visiting Sandhamn was pretty unforgettable. I still think about that little island at least once a week. Something about it made me fall in love within a few hours. I'd love to rent a house there for a summer and just relax and eat all the shrimp sandwiches I could.
Advice For Anyone Traveling Alone:
Take advantage of the metro system. It is safe, reliable, and more affordable than a cab.
Total Trip Cost: $3,583
Worth It? Yes! Stockholm is such a fantastic cosmopolitan city with so many cool things to do. Also, the day trip to Sandhamn definitely sealed the deal for me.