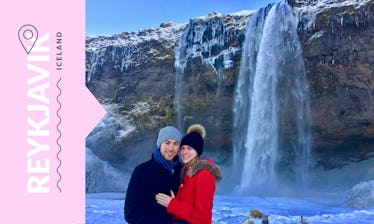 Wander or Bust: Reykjavik, Iceland Makes Being Cold Look So, So Good
Wander or Bust is an Elite Daily travel series that follows young women all over the globe to record their journeys as they experience the thrill of the far-flung and unknown.
They'll track their budgets, where they stay, where they eat and drink, and where they took that amazing Instagram that got them ~maximum exposure.~ The internet is full of travel advice, but none from women just like you. Read on for the tips no one else gives you, and when in doubt, get on the plane.
Here's Julie Grassey's Wander Or Bust guide to Reykjavik, Iceland.
My Name: Julie Grassey
What I Do: Publicist
Where I Live: Washington, D.C.
Where I Went: Reykjavik, Iceland
How Long I Stayed: 4 days, 3 nights
My Spending Style: Occasionally indulgent. I don't throw money around, but I will definitely splurge on more than a few expensive things on a vacation.
Where I Got My Recommendations:
A few of my friends had been to Iceland and advised on activities, and I actually made a connection at a work event who, after chatting about my upcoming Iceland trip and her recent travels, sent me a full five-day itinerary from her recent trip to Iceland, which was super helpful! If I hadn't had this, I don't think I would've known to rent a car, where to explore outside of Reykjavik, etc.
Exchange Rate At Time Of Travel: $1 USD = ~100 ISK (which makes reading menus very daunting)
What That Looks Like IRL: $50 USD = ~5,000 ISK
Preferred Payment Method:
I have a travel credit card, so I used that for the duration of my trip! We also took out about 6,000 ISK ($60 USD) when we first arrived, in case somewhere didn't take credit card. We found almost everywhere did, and it was super easy to utilize an American credit or debit card in this city.
Phone Bill: I really wanted to disconnect on this trip, so I only used my phone when I had WiFi at night in my Airbnb! No added phone charges.
Mode of Transport: Airplane — I flew Icelandair
Price: $600
Iceland was my first stop in a larger Europe trip I was taking, but the round-trip cost to Iceland specifically, had I not taken advantage of Icelandair's "stopover" option, would have been about $600.
Extra Costs: Yes, I would highly recommend renting a car in Iceland! I rented a car from the airport, which cost about $60 per day, so approximately $240 total for the trip.
Transport Total: $840
Accommodation: Airbnb
Location: City center, here's one of the nearby views within walking distance: Hallgrímskirkja.
Price: $160/night
Extra Costs: Nope!
Would I Recommend It To Someone Else:
It was a really nice Airbnb, but not the best I've ever stayed in! The location was great, but some of the amenities could've been nicer.
Accommodation Total: $480 total
Breakfast-Lunch Cost: $20-$25 USD/day
Dinner Cost: $35/day
Unless you're getting a hot dog — those were $5-ish. For two people at dinner with simple sandwiches and one beer each, we spent about $70. Very pricy!
Average Total Cost: $60/day
Tip Situation: In most places, tip was included as a service charge on the bill; if it's not included, adding 10 percent is fine.
Food Situation:
Eating out on vacation is typically my favorite part of traveling. However, I had heard through friends that the food in Reykjavik wasn't that good and I also knew the restaurants would be super expensive, since basically all food is imported... so I had my mind set on eating ramen and toast the duration of the trip, with foodie adventures to follow as I continued on through Europe post-Iceland.
This all changed when my now-fiancé proposed on the first day of our trip. We felt like we needed to go out and celebrate that first night and ended up trying out a few restaurants in the city center, which to our surprise, were actually not that bad! Once we ate out once (tuna melts and beer — such a romantic combo), we ended up going out for every meal. There are a ton of cute cafes, so breakfast/coffee was easy to find each morning.
During the days, we were on the road, so we were eating pretty much anywhere we could find on the way. At night, we found the restaurants had a lot of the same food — specifically, lamb stew, mushroom soup, and hot dogs are hot food items there — so we dabbled in all of these to get a real taste of Iceland.
Favorite Restaurant: Saegreifinn
I loved our meal here; its name translates to The Sea Baron and it specializes in different fish soups. We both got the lobster soup, and I'm still thinking about it.
Location: Geirsgata 8 - 101 Reykjavík
Price: $25
Honorable Mentions: I would definitely recommend getting at least one hot dog while you're there with all the toppings. There are stands all over the city. The main claim to fame is a "secret sauce," which tasted a lot like honey mustard to me. Delish!
Food Total: $250
We spent more than we wanted on food. There is a Joe and the Juice when you land in Reykjavik, which is hard to resist after an overnight flight.
Nightlife Situation:
Reykjavik mainly had pub-style bars, which are certainly buzzing starting in the late afternoon, as many of them offer great happy hour specials. Because we had taken a red eye and were so busy during our days in Iceland, we didn't stay out super late in Iceland, but did spend a couple nights in cozy pubs that were filled with others drinking mostly beer and wine with friends.
What People Wear Out: Very casual dress! I mostly saw jeans and sweaters/sweatshirts at the bars we went to.
Average Cost Of A Pint: Approximately $10. Happy hour specials were about $7 per beer.
Extra Cost To Know About: No.
Last Call: 1 to 2 a.m., I'd say.
Average Total Cost Of A Night Out: $30 for a few drinks, since the bars weren't super rowdy.
Cheapest Bar I'd Actually Go Back To: Kaffibarinn
Great place for late-night dancing and relatively inexpensive drinks — because there's really no such thing as cheap in Iceland.
Going Out Total: $60
What I Spent A Lot On That Was Totally Worth It:
I was nervous the Blue Lagoon was going to be overhyped, but it was totally worth it. I would've gone again if we had more time! Plus, the Lagoon is right near the airport, so it is a great first activity for those flying overnight from the U.S. landing super early in the morning (I believe it opens at 8 a.m.!).
We also splurged on a guided glacier hike, which was absolutely beautiful and like nothing I'd ever done before. I wouldn't trade this experience for anything, but would advise to anyone thinking to do this in December to bring even more layers of thermal-wear than you'd even think you'd need. I thought I was prepared, but it was still the coldest I had ever been in my whole life, which did dampen the memory slightly for me.
What I Spent A Lot On That Was Totally Not Worth It:
Every single thing we did on the trip felt worth it. Even the tourist-looking traps were so incredible looking, you didn't want to miss it.
What I Spent Little Or No Money On That Was Awesome:
We spent one afternoon driving part of The Golden Circle, which cost us no money and was an absolutely spectacular drive. On this popular driving route, you cruise through snowcapped mountains bordering multiple bodies of frozen water that are views you just cannot get anywhere else. A main attraction on the drive is the Gullfoss Waterfall, which, paired with Iceland's constant cotton-candy skies, has easily become the most outstanding natural attraction I've ever experienced.
Favorite Thing I Did, Regardless Of Cost:
On the first day of our trip, we drove about two hours south to the Seljalandsfoss Waterfall: another spectacular natural attraction like nothing I've ever witnessed before. Our GPS took us through crazy, snow-ridden backroads that I'm shocked we didn't break down on, on the dusky, snowy day that it was. Little did I know in those two hours that my longtime boyfriend was about to propose, making this specific part of my trip and location in Iceland extremely special, and a memory I'll never forget. Regardless of the proposal, I would recommend this drive and waterfall to anyone traveling to Iceland. If you go in the summer, you can actually walk underneath the falls, but because I was there in the winter, it was too icy/dangerous. I would definitely love to go back a different time of year to see this spot from a new perspective.
Hidden Gem I Found:
We spent an entire morning walking around the city itself, and I thought the waterfront area of Reykjavik was something to be seen and a very underrated part of my travels. The waterfront itself has a convenient walkway for any city-strollers, and the view of snowcapped mountain ranges in the distance is just something you don't normally see in cities.
The Photo I Took That Got The Most Attention:
Excursions/Extras Total: $400
General Shopping: $0
I didn't do any shopping, shockingly. There were a few wool stores we went into and almost bought blankets in. However, we did not have the space in our suitcases to bring back any souvenirs.
Souvenirs: $0
Souvenirs/Shopping Total: $0
Best Reykjavik Hack:
Stay in Airbnbs, do more research on the food offerings before going there, and rent a car so you can explore the full country. Reykjavik is beautiful and worth exploring, but super small — so if you're going for more than two days, you'll definitely want to drive to other areas.
Also, if you want to see the Northern Lights, you will need to drive out of the city to increase your chances, so you'll need a car for this purpose alone.
Advice For Anyone Traveling Alone:
For lone travelers, I would definitely recommend investing in the car GPS and portable WiFi if you don't have an international plan on your cell phone. When you're not in a city (which is pretty much all of Iceland), you are literally in the middle of nowhere on very narrow, quiet roads.
Total Trip Cost: $2,030
Worth It? Yes — can't wait to go back someday.