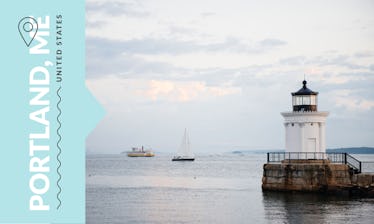 Wander or Bust: Portland, Maine Is About More Than Lobsters (But Those Are Good Too)
Wander or Bust is an Elite Daily travel series that follows young women all over the globe to record their journeys as they experience the thrill of the far-flung and unknown.
They'll track their budgets, where they stay, where they eat and drink, and where they took that amazing Instagram that got them ~maximum exposure.~ The internet is full of travel advice, but none from women just like you. Read on for the tips no one else gives you, and when in doubt, get on the plane.
Here's Cori Sue Morris' Wander Or Bust guide to Portland, Maine.
My Name: Cori Sue Morris
What I Do: A social media strategist and brand consultant, writer, and founder of a lifestyle website covering food and travel, Bitches Who Brunch.
Where I Live: Upper West Side, New York
Where I Went: Portland, Maine
How Long I Stayed: 3 days, 2 nights
My Spending Style: Extravagant. I spend without consequence; I'd rather have a good time than be on a budget.
Where I Got My Recommendations:
I sourced by travel and dining recommendations from The New York Times travel and Bon Appetit magazine, which had a great piece on 72 hours in Portland, Maine.
Preferred Payment Method: Cash and debit — the usual.
Phone Bill: My phone bill did not change, as this was domestic travel.
Mode of Transport: Airplane.
We took a short, cheap flight from Newark to Portland, Maine, which was about an hour long.
Price: $150 — you can get a round-trip flight for cheap if you book far enough in advance. American and United have direct flights.
Extra Costs: I took a carry-on bag for the weekend, so I did not have to pay for baggage. The Lyft from the airport to the hotel was about $10. We didn't need to rent a car because everything in downtown Portland is walkable.
Transport Total: $160
Accommodation: Press Hotel
It's a high-end hotel in the center of Portland.
Location: The Press Hotel was right downtown, near everywhere we wanted to go — bars, theaters, jazz clubs, and restaurants.
Price: $250/night
Extra Costs: Nope. WiFi, gym, and airport transfer are all included in the hotel cost. We saved a lot of money on transport by being downtown and being able to walk everywhere.
Would I Recommend It To Someone Else:
I would absolutely recommend the Press Hotel. The location was perfect, the beds were super comfortable, the WiFi was free, and the service was impeccable. They have a free shuttle to and from the airport, complimentary coffee, and the restaurant and bar are spectacular.
Accommodation Total: $500
Breakfast-Lunch Cost: $15/day
Breakfast can range from about $8 for a doughnut and coffee — I recommend The Holy Donut, or a sit-down eggs benedict at brunch for about $20 a person, with coffee, a mimosa, tax, and tip.
Dinner Cost: $40/day
Dinner ranges from great pizza spots and lobster rolls (less than $20) to sit-down meals at farm-to-table restaurants, which will be about $40 to $60, depending upon how much you drink.
Average Total Cost: $55/day
Tip Situation: Like most places in the states, people tip about 20 percent if the service is good.
Food Situation:
Portland has one of the best food scenes, from the doughnuts to seafood markets where you can also grab a bite to fancy sit-down spots.
Favorite Restaurant: Tandem Coffee
My favorite restaurant was a super cute coffee roastery and bakery known for its homemade biscuits. They only make a certain number each day, so you have to go early. Order the off-menu breakfast sandwich. It's composed of the biscuit, and egg, cheese, mayo, and Canadian bacon, and it's the best thing I've ever eaten.
Location: 742 Congress St. (This is the bakery location. The original roastery is located at 122 Anderson St.)
Price: The breakfast sandwich was about $6, and then $3 to $4 for a coffee.
I also loved the Front Room whose brunch was exquisite:
Honorable Mentions: For another cheap, delicious bite: Portland Lobster Company. For brunch: Union Restaurant. For oysters: The Shop, Eventide Oyster, East Ender. For a sit-down dinner: Fore Street, Street & Co, Central Provisions.
Food Total: $500
Nightlife Situation:
It's a day-drinking town, as there are tons of breweries that are open all day long. There are also loads of live music venues ranging from rock to funk to jazz, so the best plan is to visit breweries during the day, and see a show at night.
What People Wear Out:
Portland is super casual with a laid-back, hippie vibe. Jeans and a cute top is absolutely fine.
Average Cost Of A Pint:
Portland has a cool craft-brewing scene, so beers are $5 to $8, and there are often tasting flights available.
Extra Cost To Know About:
The beers and drinks are affordable! If you see a show, there will be a ticket cost or cover.
Last Call: 1 a.m.
Average Total Cost Of A Night Out:
We spent about $40 on drinks and tipping the jazz musician at Blue, where we saw a free show.
Cheapest Bar I'd Actually Go Back To:
We liked Lone Pine and Rising Tide during the day, and Blue jazz bar at night.
Going Out Total: I spent about $100 on drinks, but more on food.
What I Spent A Lot On That Was Totally Worth It:
The best part of Portland is trying all the restaurants and breweries. We visited Urban Farm Fermentory, a local kombucha brewery, which was fascinating and free to enter. We bought flights of kombucha for about $15.
What I Spent A Lot On That Was Totally Not Worth It:
Nothing — I didn't bring home any souvenirs, but I spent my money on experiences (food and drinks, mostly) and explored the city.
What I Spent Little Or No Money On That Was Awesome:
We went for a run around the Eastern Promenade that was totally free!
Favorite Thing I Did, Regardless Of Cost:
The doughnuts at Holy Donut.
Hidden Gem I Found:
I felt like every restaurant I stepped into had some sort of "hidden gem" quality. There was something different on each menu that made me excited every time I was hungry enough to eat again.
The Photo I Took That Got The Most Attention:
Excursions/Extras Total:
I spent $0 on excursions — hiking, running, and visiting the Portland Head Light lighthouse in nearby Cape Elizabeth, Maine are all great Portland activities that are totally free. The only thing that might be worth spending money on is a boat excursion. Fishing charters can be pricey, but you can take the Casco Bay Lines Mailboat — an actual working boat bringing mail and passengers to the various islands in Casco Bay — for $16.50.
General Shopping: $0 — I was all about the eating and exploring and experiences.
Souvenirs: $0
Souvenirs/Shopping Total: $0
Best Portland Hack:
Be sure to pack a jacket and comfortable shoes, as it gets cold at night and you'll be doing a lot of walking.
Advice For Anyone Traveling Alone:
Portland is a super-laid back city, go to a brewery and make new friends!
Total Trip Cost: S1,260 — for the weekend, including hotel, flight, and pretty lavish eating and drinking.
Worth It? Absolutely!