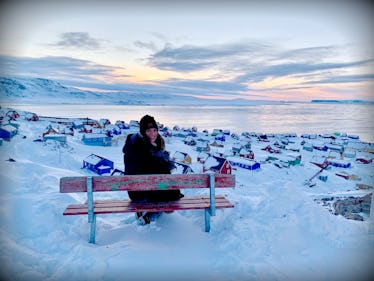 I Stayed At The World's "Most Remote Hotel" & The Middle Of Nowhere Is Stunning
Courtesy of Collette Reitz
Wander or Bust is an Elite Daily travel series that follows young women all over the globe to record their journeys as they experience the thrill of the far-flung and unknown.
They'll track their budgets, where they stay, where they eat and drink, and where they took that amazing Instagram that got them ~maximum exposure.~ The internet is full of travel advice, but none from women just like you. Read on for the tips no one else gives you, and when in doubt, get on the plane.
Here's Collette Reitz's Wander Or Bust guide to Ittoqqortoormiit, Greenland.
My Name: Collette Reitz
What I Do: Associate News Editor, Elite Daily
Where I Live: Chicago, Illinois
Where I Went: I went to the town of Ittoqqortoormiit in East Greenland on a trip provided by Hotels.com.
How Long I Stayed: 3 days, 2 nights
My Spending Style: Occasionally indulgent. I don't throw money around, but I will definitely splurge on more than a few expensive things on a vacation.
Where I Got My Recommendations:
Since the trip was paid for by Hotels.com, its itinerary was the perfect place to start figuring out exactly what I'd be doing on the trip. A quick visit to the Nanu Travel website, the only travel agency in Itto, was super helpful for getting a little more insight into what activities like dogsledding and snowmobiling actually entail!
Exchange Rate At Time Of Travel: $1 USD = 6.53 DKK (Danish Krone)
What That Looks Like IRL: $50 USD = 326.74 DKK
Preferred Payment Method: I only used a credit card that didn't have international transaction fees.
Phone Bill: I didn't use my phone while I was in Itto, as it wasn't covered in my provider's $10 per day international plan that I used in Iceland. A message sent to me while I was in Greenland indicated that it would have been $2.05 for every MB used, $3 for every minute on the phone, 50¢ for each message sent, and $1.30 for every photo or video message sent while in Ittoqqortoormiit. Since a lot of applications can run in the background, I just turned off all of my data while I was there.
Luggage Type: I brought both a carry on and a checked bag, since boots and warm winter clothing are so bulky!
What Shoes I'm Bringing: Winter boots, boot liners, and slippers. As long as you're visiting with snow on the ground, you won't want to walk outside with anything other than tall, warm boots.
Mode of Transport: Airplane & helicopter
I took a flight from Chicago to Reykjavik, Iceland, and then we took the ~45 minute flight from Reykjavik to Akureyri in northern Iceland, and the last airplane flight was from Akureyri to Constable Point (CNP), the airport in Greenland. Finally, we took a helicopter, which was about a 15-minute flight from CNP to Ittoqqortoormiit. Even though I was a little nervous about flying in a helicopter, our expert pilot Jonas made everyone feel at ease by cracking a few jokes as we flew. Plus, taking off out of literal mountains is an experience I'll never forget.
It might sound like a lot of work to get there, but believe me, the views from the flight to CNP and the helicopter ride to Itto are some of the most breathtaking sights you'll ever have the chance to see. When I went, the helicopter ride back to CNP was made even more magical by the perfectly pink sky created by the sun rising up above the mountains.
Price: $1,540 for six flights and two helicopter rides, round trip
Extra Costs: I had to Uber to O'Hare Airport (ORD), which was $34. While I was abroad, there was a private car service from Reykjavik Airport (KEF) to the hotel in Reykjavik (we stayed in Reykjavik for two nights), and a shuttle to the domestic Reykjavik Airport (RVK) from the hotel, which totaled $324. Once in Akureyri, there was a shuttle to the hotel (we stayed in Akureyri one night), and then a shuttle back to the Akureyri Airport, which totaled about $100. Finally, there was snowmobile transport to the Ittoqqortoormiit Guesthouse from the helicopter, which totaled $382 for round-trip service. And then the reverse trip included the same routes. As a note, the private car service is not the only mode of transport — there are cheaper options to get to and from the RVK Airport.
Transport Total: $2,739
Accommodation: I stayed at the Ittoqqortoormiit Guesthouse, aka the only lodging available in Itto!
Location: Right in the center of town.
Price: A single room is $84 per night, and a double room (where I stayed) is $107 per night, which you could totally split with a friend.
Extra Costs: Since the cleaning costs are included in the price, the only extra charge is the 1 percent taxes and fees.
Would I Recommend It To Someone Else: Definitely! Even though there are no other accommodations in the town, the Guesthouse has everything you need. It's much more like a house rental than a hotel, so you can feel right at home when you stay. There are seven rooms and two fully-equipped kitchens, so you could totally grab a group of friends to stay here for an out-of-the-box getaway. Plus, it's near Nanu Travel Agency — where you'll rent winter suits and boots — so you won't have to trek too far in the cold to get in on all the Itto action. Also, the heating inside the Guesthouse will get you warm and toasty when you come in from a three-hour dogsled tour.
Accommodation Total: $214
Breakfast-Lunch Cost: Varies, ~$10/day
When it comes to eating in Itto, you'll have to shop at the local grocery store for all your breakfast, lunch, and dinner needs. So, your daily breakfast total will depend on what you get! We had eggs, bacon, and toast both mornings, along with coffee, tea, and milk. For lunch, we bought pasta, frozen peas, onions, and a red bell pepper. The food bill total from the store on our first shopping day was about $155 split amongst seven people, so the individual cost would be about $22 per person (not including alcohol bought).
Dinner Cost: Varies, ~$15/day or $83/person for an ordered meal
The dinner situation is the same as breakfast and lunch: You're cooking! If you'd like to take a night off, you can arrange dinner service through Nanu Travel. The cost of dinner is $83 per person. We had dinner made one night, and it included baked Arctic char (a fish similar to salmon) and musk ox (a common meat eaten in Itto) with rice and potatoes. It was delicious and a great way to get acquainted to a new place!
As for the dinner we made, it was a chicken curry with a pre-made curry sauce found in the store. The total bill for the second day (including alcohol) was $120 split among seven people.
Average Total Cost: For two shopping trips, the average total cost was $137.50 for seven people.
Tip Situation: There is none, since you're not dining out.
Food Situation: Again, you're cooking! If you take this trip with close friends, the time to prepare meals and sip a glass of wine is really one of the best parts of the trip. There is one hot dog stand in town, but it was not open during our meal times. Overall, I didn't find having to prepare our own meals to be too much of a hassle. If you all split the work evenly, you'll be eating in no time!
Favorite Restaurant: Since we didn't eat out at all, I would have to say that my favorite meal was the one prepared through Nanu Travel. Eating like the locals on our first night there was a great way to start the trip! Plus, the food was so delicious.
Location: At the Guesthouse
Price: $83 per person
It might seem a little bit pricy for a dinner, but you won't be spending much on the meals you make yourself, so one splurge is totally worth it!
Food Total: $855 for seven people, so about $122 per person
Nightlife Situation: The nightlife in Itto is not about bars and going out. It is a non-drinking culture, but they do sell alcohol, and have since its introduction to the town store in the '90s. You can buy alcohol in the store behind a blue curtain at the entrance, and the drinking age is 18. While staying at the Guesthouse, you can relax and and imbibe some beverages, but extending invites for an all-out party is strictly prohibited. Believe me, though, you won't want to be raging during the night hours. While we were there, we watched movies, drank some red wine, and played card games. It was a great way to unwind from jam-packed days spent in the cold.
If you're there during any month between September and April, you'll want to be watching the clear night sky for any Northern Lights sightings. Seriously, a clear sky in Itto will give you one of the most brilliant light shows you've ever seen. Sadly, it was too cloudy while we were there to see them, but images of what past guests have seen are absolutely breathtaking.
What People Wear Out: If you head outside to see the Northern Lights, you'll be bundled up. You can leave your jeans and "nice tops" at home because staying warm is your first priority.
Average Cost Of A Pint: You'll be getting any alcohol you want at the store. There is no alcohol sold over 13 percent ABV. A 12-ounce can of a Guld Tuborg Pilsner costs $3.36, and 12-ounce can of Faxe Premium Lager costs $2.38.
Extra Costs: There are no hidden costs when it comes to alcohol, and since there are no bars, you don't have to worry about tipping or cover fees.
Last Call: It's up to you! Although, unless you're pulling an all-nighter to get a glimpse of the Northern Lights, you'll want to rest up for the day ahead.
Average Total Cost Of A Night Out: The alcohol bill for a group of seven was about $108, which is $16 per person.
Cheapest Bar I'd Actually Go Back To: There are no bars in Itto, but the alcohol was all pretty reasonably priced. Plus, you're not really coming to Ittoqqortoormiit to rage all night.
Going Out Total: Around $16 per person for the whole trip.
What I Spent A Lot On That Was Totally Worth It:
Dogsledding costs $298 for two people on a three-hour dogsled ride. Guided by East Greenlandic dogs and their trainer, you'll ride along Scoresby Sound, a fjord system (an inlet of water with steep sides created by a glacier) on the coast of Itto. Crisp, white mountains flank you on one side, and the sea dotted with glaciers the size of a house are on the other. With the possibility of seeing a polar bear during your ride (we didn't see one, but it is possible), it is truly a unique experience. Be forewarned that it is cold, though (like zero degrees Fahrenheit). I would definitely rent a winter coverall suit for the $11.50 per day fee with Nanu Travel for the excursion.
While the dogs might look cuddly and majestic as they pull your sled, be aware that you should not try to pet them. They are also trained for hunting, and they are not the same domestic dogs you have at home. Still, they are professionals when it comes to pulling the sled, and even with temperatures colder than you might like, it feels like a straight-up winter wonderland when you're riding.
What I Spent A Lot On That Was Totally Not Worth It:
Snowmobiling for one person with a driver costs $114. For a two-hour tour that goes on the same route as your dogsled ride, this is something I passed on when the rest of the group headed back out right after dogsledding. Again, my dogs were slower than the others, so we were out in the cold a little bit longer than everyone else — and a two-hour snowmobile trip to see pretty much the same sights as before was not for me. If you are deciding between dogsledding and snowmobiling, I would definitely opt for the dogs. But if you do want to try both, schedule them on different days!
Plus, you'll get a snowmobile ride to and from the helicopter landing, and it includes plenty of hills and twists and turns, so you'll still get a snowmobile thrill even if you don't take the tour.
What I Spent Little Or No Money On That Was Awesome:
The walking tour of Itto is a must. It only costs about $122 for an eight-person tour, so split eight ways, it's about $15 per person. During the two-hour tour, you'll see almost all of Itto. You'll learn why the East Greenlandic dog pups roam free around the town until they're 6 months old (because their muscles are still growing!), and you'll learn that even though these pups look even cuddlier than their grown counterparts, you should not pet them. Plus, you'll learn how this 450-person town is actually quite similar to wherever you live, as you see the schools, hospitals, recreation center, and police and fire stations. Oh, and you'll get all the best ~views~ you could ever want.
Favorite Thing I Did, Regardless Of Cost:
Even though the dogsledding was long and cold (and the dogs will fart, leaving behind unthinkable smells LOL), it was an experience that I will never get again. You really can't beat the views in this winter wonderland, and it definitely gives you the feeling that you are on a trip unlike any other.
Hidden Gem I Found:
While dogsledding was exciting, an unforgettable part of the trip was the first time we touched down in the helicopter and got out to see the amazing view below us. It was so quiet and peaceful atop the mountain. Seriously, there was complete silence, and I don't think I've ever experienced a complete absence of noise in the great outdoors. It was a wonderful introduction to a very unique stay.
The Photo I Took That Got The Most Attention:
Excursions/Extras Total: $412
Best Ittoqqortoormiit Hack:
Listen to the locals when it comes to dressing warm. Mette Barseljsen, the director of Nanu Travel, was born in Itto, and she knows the best ways to stay warm. Case in point: Mittens will keep your hands warmer than gloves because your fingers will get colder when separated. I would highly recommend mittens for both the dogsledding and the snowmobiling.
Advice For Anyone Traveling Alone:
Honestly, I would not take this trip alone. It is a bit pricy to get there, and it really is the perfect setting to go with close friends or family. Downtime is all spent together, and you'll be sharing unique experiences that even your best pictures won't do justice when trying to share details when you return.
Total Trip Cost: $3,503
Worth It? The cost of my trip was covered by Hotels.com, but this price would be completely worth it if you are in search of a unique (and almost magical!) travel destination. You'll be daydreaming about all the gorgeous views for weeks after you leave.