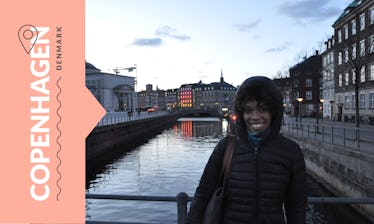 Wander Or Bust: Copenhagen Proves There's Nothing Rotten In The State Of Denmark
Wander or Bust is an Elite Daily travel series that follows young women all over the globe to record their journeys as they experience the thrill of the far-flung and unknown.
They'll track their budgets, where they stay, where they eat and drink, and where they took that amazing Instagram that got them ~maximum exposure.~ The internet is full of travel advice, but none from women just like you. Read on for the tips no one else gives you, and when in doubt, get on the plane.
Here's Juliana Montgomery's Wander Or Bust guide to Copenhagen.
My Name: Juliana Montgomery
What I Do: Executive Producer, BDG media
Where I Live: Brooklyn, New York
Where I Went: Copenhagen, Denmark
How Long I Stayed: 6 days, 5 nights
My Spending Style: Occasionally indulgent. I don't throw money around, but I will definitely splurge on more than a few expensive things on a vacation if I've budgeted for the trip in advance.
Where I Got My Recommendations:
Copious online research for our hotel — then enjoyed the hotel's "curated stay" option, whereby guests share the types of activities they enjoy and the hotel concierge curates recommendations for your trip.
Exchange Rate At Time Of Travel: $1 USD = kr6.0 DKK
What That Looks Like IRL: $50 USD = kr300 DKK
Preferred Payment Method: Credit and cash (exchanged some USD for DKK before departing the US, also used ATMs during trip)
Phone Bill: $0 more than usual. I was on holiday and used Airplane Mode and WiFi.
Mode of Transport: Airplane
Price: $1,400
Extra Costs: $500. I used taxis to and from airport in New York, metro in Copenhagen, train trip within Denmark, taxis in Copenhagen.
Transport Total: $1,900
Accommodation: Hotel Sanders
Location: Near city center and close to Kongens Nytorv Metro Station
Price: $700/night — included breakfast
Extra Costs: Everything in Copenhagen is expensive. Accommodation, food, transport, museum entry, you name it. The good news is that gratuity, where applicable, is already included in most transactions.
Would I Recommend It To Someone Else:
Yes, yes, yes! It's a beautifully calming space with exquisite design detail. The staff is fantastic and the comfort and enjoyment of guests is paramount before, during and after your stay. We forgot a small item at the hotel that was shipped home to us, accompanied by Danish chocolates and a handwritten note from the head of guest services.
Accommodation Total: $4,700
Breakfast-Lunch Cost: $40/day
Breakfast was included with our accommodation. Restaurant lunch was approximately $40 per person per day.
Dinner Cost: $80/day
Restaurant dinner (including wine) was around $75-$100 per person per day
Average Total Cost: $120/day
Tip Situation: No tip required. A 10 percent tip can be added for exceptional service but isn't common.
Food Situation:
Food in Copenhagen is mostly a mixture of sophisticated nordic cuisine and a variety of cuisine that are available in most cosmopolitan cities. Breakfast consists of breads (gluten-free), eggs, meats, and coffee. For lunch and dinner, people eat open face herring sandwiches (smørrebrød) and loads of other soups, fish, meats (lamb, chicken, duck), pasta, hearty veggies, sauce-laden delights, and sweets.
Favorite Restaurant: Mangia
Location: Bagerstraede 9 1617 Copenhagen V
Price: ~$90 per person (shared starter, main, dessert, wine)
It was a bustling, low-key, unpretentious neighborhood spot with delicious food, a delightful staff, and it gave a sense of living in Copenhagen, rather than just visiting there.
Food Total: $2,500
Nightlife Situation:
The nightlife seems to vary depending on time of the year (as it seems to in a lot of places that get unbelievably cold in the winter). During the week, until about Wednesday, there's very little going out beyond bars. On the weekend, however, you can definitely find clubs. Electronic music is popular and so is dancing.
What People Wear Out:
When I was there, it was freezing, but people still managed to look cool. They stayed bundled, but paid specific attention to details: fabric, texture, an occasional pop of color, and a very warm coat seemed to complete the vibe.
Average Cost Of A Pint: It was $7/bottle of beer and wine was in the $15/glass range.
Extra Cost To Know About: We didn't really hit the clubs, but it seems some places have covers. There's also the tricky case of getting home in bone-chilling cold, so taxis are probably a thing, too.
Last Call: During the week, bars shut around 12 a.m. and on the weekend it looked like it was around 4 a.m. Many shops and restaurants are closed Sundays and Mondays. The rest of the week, shops stayed open until 5 p.m. or 6 p.m., and restaurants were open until 10 p.m. or so.
Thursdays through Saturdays are the best nights to go out.
Average Total Cost Of A Night Out: $150
Cheapest Bar I'd Actually Go Back To: Ruby
Going Out Total: $500
What I Spent A Lot On That Was Totally Worth It:
I took a train trip to Louisiana Museum, which was approximately 40 minutes north of Copenhagen via train. This was a really lovely modern art museum and well worth the excursion. There we also visited the Kronborg Castle, which is the castle Hamlet is set in. It was so beautiful, I was sure there could be nothing "rotten in the state of Denmark."
What I Spent A Lot On That Was Totally Not Worth It:
Even though a lot of places in Copenhagen were expensive, I never felt like I was being slighted by the experience. Everything was just beautiful, it didn't feel like anything wasn't worth the money I paid for it.
What I Spent Little Or No Money On That Was Awesome:
Historic walking tours of Copenhagen aren't overly expensive and offer beautiful, scenic routes showing off gorgeously colored houses and the completely frozen over river.
Favorite Thing I Did, Regardless Of Cost:
One night, we went out for a dinner and a movie. It's something I do often back at home, so I was excited to experience it in a different country and culture. I was definitely not disappointed. We went to Empire Cinema; the place was so cute and the experience was next level.
Hidden Gem I Found:
I'm big on eating, and I found that much of my trip was spent doing such (especially because it was so cold). We went to a restaurant called Schonnemann, which was established in 1877 and the food was phenomenal. It ranked high in my memories of this trip.
The Photo I Took That Got The Most Attention:
Excursions/Extras Total: $250
General Shopping: $0
Souvenirs: $0
I feel like I chose eating over shopping, and I'm perfectly OK with that.
Souvenirs/Shopping Total: $0
Best Copenhagen Hack:
Make sure you fully understand the weather/temperature of the time you're traveling. There are times to visit Copenhagen when it's much warmer, if that's what you're interested in. Otherwise, remember that it isn't cheap.
Advice For Anyone Traveling Alone:
If you can't find anything to do during the week when it's much quieter, a lot of the hotel bars seem to be packed. When people aren't out drinking, they're eating (while probably also drinking), so hotels seem like a good place to meet friends.
Total Trip Cost: $9,840
Worth It? Of course! I had a wonderful time and I'm still thinking about some of the food.