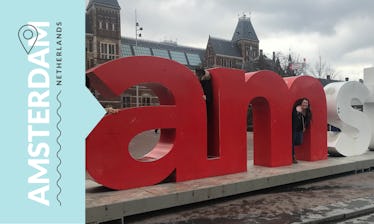 Wander or Bust: Amsterdam Has A Lot More To Offer Than What It's Known For
Wander or Bust is an Elite Daily travel series that follows young women all over the globe to record their journeys as they experience the thrill of the far-flung and unknown.
They'll track their budgets, where they stay, where they eat and drink, and where they took that amazing Instagram that got them ~maximum exposure.~ The internet is full of travel advice, but none from women just like you. Read on for the tips no one else gives you, and when in doubt, get on the plane.
Here's Rosanne Salvatore's Wander Or Bust guide to Amsterdam.
My Name: Rosanne Salvatore
What I Do: Director of Editorial Operations, BDG
Where I Live: Hoboken, New Jersey
Where I Went: Amsterdam, Netherlands
How Long I Stayed: 4 days, 3 nights
My Spending Style: Thrifty. I'm always on the lookout for a deal and I refuse to pay full price for anything.
Where I Got My Recommendations:
I'm big on research. I know what's going on in a place before I visit. I look out for the best deals because I'm thrifty. The Instagram explore page for Amsterdam was a great place to start. There are also a few guides I picked through and assembled my own itinerary with.
Exchange Rate At Time Of Travel: $1 USD = €.84 EUR
What That Looks Like IRL: $50 USD = €42 EUR
Preferred Payment Method: Most places take card, but having cash is always handy, especially with the number of street fairs that pop up all over the city.
Phone Bill: I used WiFi when we had it and didn't turn on data when we didn't — so it was about the same.
Mode of Transport: Airplane
Price: $570; I got a round-trip from Newark nonstop because I monitored flight prices to Europe for weeks and waited until it dropped.
Extra Costs: Getting to the airport in New York runs you about $80 round-trip, but the fastest way to get from Amsterdam airport to the city is actually the train that will run you only $13 round-trip. (A taxi to and from Amsterdam airport is about $90, so this is a money saver.) So I spent an additional $93 on transport.
Transport Total: $663
Accommodation: Herengracht Bed & Not Breakfast for two nights; Hotel Luxer for the last night (as it was near the train).
Location: The B&NB was central enough without being directly in the middle of the bustling city; it's located on the "Gentleman Canal" and is very scenic. The hotel was close by the train — only a 4-minute walk.
Price: $256/night and $228/night
Extra Costs: Nope!
Would I Recommend It To Someone Else:
The bed & not breakfast (as they were very clear about) was super cool. There was no hotel desk and we didn't even see a single person in this place. We got a keycode for the two doors and just walked in when it was check-in time. So cute.
The hotel was more standard, but we were trying to catch an early train. The trains and trams from Centraal might be the best part of Amsterdam! So easy to get around. And also easy to country hop!
Accommodation Total: $370
The total was $740, but we split it between two people.
Breakfast-Lunch Cost: $10-$20/day
Dinner Cost: $30-$40/day
Average Total Cost: $50/day
Tip Situation: A lot of places in Amsterdam already add tip/service charge to the bill, so it's definitely not necessary. It's more common to leave any extra change or round the bill up so there's a little something for the servers. A 10 percent tip wouldn't be frowned on.
Food Situation:
The food in Amsterdam is tasty. It offers pancake houses for sweet and savory dishes for any time of day. There's a large and delicious Indonesian cuisine food scene. Fish is big (although you may or may not want to try the raw herring), as well as cheese, stroopwafels, and fries. There really is something for everyone.
Favorite Restaurant: Sea Palace
So this floating dim sum restaurant is modeled after the famous Jumbo in Hong Kong. I almost fell off the canal tour when they told me this. I lived in Hong Kong for a bit so I dropped in for the nostalgic value. The food was actually pretty delicious!
Location: Oosterdokskade 8, 1011 AE Amsterdam
Price: $55
Honorable Mentions: Kessen's (cute brunch that looks like a Manhattan restaurant, TBH); Upstairs Pancake House (this place is the best; it's only about four tables big but it's worth the wait).
Food Total: $160
Nightlife Situation:
There's definitely a nightlife scene in Amsterdam. A lot of Europeans (and others too, the Europeans are just closer) treat Amsterdam like Las Vegas. There are hordes of bachelor and bachelorette parties, people looking to dance their faces off, and also those who are in search of everything Amsterdam is legal for — which is quite a bit. There are tons of coffee shops, bars, and clubs where each visitor can find her niche.
What People Wear Out:
The Amsterdam vibe is chill; you don't need to concern yourself with wearing stilettos and an LBD (although you can if you'd like). Loads of people are out in jeans and tees — and a few people were even dressed up in costumes. Some clubs have more stringent dress codes depending on the night, but generally a few kind words will get you past the door.
Average Cost Of A Pint: It depends on how touristy the area is, but it's generally around $7. You can get it as cheap as $4 and as expensive as $10.
Extra Cost To Know About: Depending on where you're staying, you may need to take taxis home.
Last Call: For bars, it's 1 a.m. weekdays and 3 a.m. weekends. For clubs, it's around 5 a.m.
Average Total Cost Of A Night Out: $40
Cheapest Bar I'd Actually Go Back To: The Bulldog Mack
Going Out Total: $120
What I Spent A Lot On That Was Totally Worth It:
The Heineken Experience is something just have to do. This is way more Disney than brewery, and the beer actually tastes good! We walked up and got tickets at the window. It worked out to about $26 a piece.
What I Spent A Lot On That Was Totally Not Worth It:
I know I probably wasn't the ideal candidate to enjoy it — nor did I spend any money on it, just to clarify — but I thought the Red-light district was a bit underwhelming. If you're not a prospective customer, it can feel fairly awkward, and the walkthrough gets old pretty fast.
What I Spent Little Or No Money On That Was Awesome:
Brouwerji't is a super cool brewery inside a windmill and the beer was delicious. The beers ranged from $4-$5 and are sold in all the local bars.
There's also a canal tour that's only about $13 per person; you can see hotspots, like the smallest house and the harbor, and you can finally figure out why there are hooks on top of each house (I won't ruin it for you).
Favorite Thing I Did, Regardless Of Cost:
It's a staple for any trip to Amsterdam, but the Anne Frank House is well worth it. The tour is steeped in history; it's fascinating, powerful, and really grounding. A ticket costs around $13.
Hidden Gem I Found:
Winkel 43 may not be all that hidden, but it sure is a gem. I dropped in here for beer and an apple pie and the guy told me they sell over 150 pies a day. It was cute and delicious, which is never a bad combination.
The Photo I Took That Got The Most Attention:
Excursions/Extras Total: $100
General Shopping: $0
Souvenirs: $40
I brought back a beautiful pair of clog slippers because of course, as well a tons of cheese from local cheese stores.
Souvenirs/Shopping Total: $40
Best Amsterdam Hack:
Check for Anne Frank House tickets online the day before trying to go. Tickets generally tend to sell out 90 days in advance, but they open up a few more slots the day in advance. That's the only way I was able to secure tickets!
Advice For Anyone Traveling Alone:
Amsterdam is an easy city to meet people looking to have a good time. The Flying Pig hostels (both uptown and downtown, though the latter is livelier) are great places to meet other young travelers... and probably other people traveling alone. The staff come from all over and are really just there so you can have a good time. Highly recommend!
Total Trip Cost: $1,433
Worth It? Every penny — we had an amazing time!