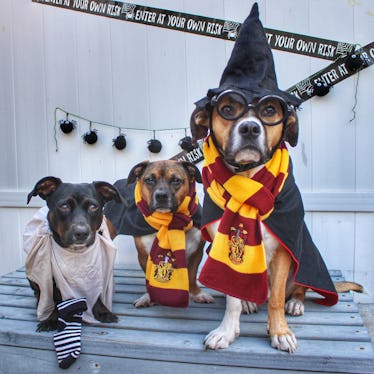 These Photos Of Dogs In A Halloween Costume Contest Will Fill Your Day With Puppy Love
WAG!
Taking a moment to aww over adorable photos and videos of dogs just being their goofy and totally lovable selves is 100 percent guaranteed to instantly brighten up your day and bring a big smile to your face, no exception. So when I hit the cuteness jackpot with dogs dressed up in Halloween costumes, I knew I couldn't keep this adorable pup fest to myself. Wag!'s Dog Halloween Costume Contest lets you vote on the cutest pups who are all dressed up for the spookiest time of the year, so say goodbye to productivity and feast your eyes on all this puppy love.
On its website, Wag!, an on-demand dog walking app, announced that it was putting on its very first Halloween dog costume contest, aptly named the Howl-o-ween Costume Contest. From Oct. 4 through Oct. 20, pooches with an eye for costumery were invited to submit photos in one of three categories: pop culture, funny, or scary. Now, dog lovers can head to Wag!'s website until Oct. 26 to vote for what pup "wore it best." In addition to bragging rights, the winners in each category will also get some pretty great prizes. The best-dressed pooches will be awarded $500 in Wag! credits for walking and/or sitting services and a $250 dog gift bag, as well as a $100 Wag! swag bag full of surprises for dogs and their humans. Unsurprisingly, people are going all out with the costume ideas, and each photo is more adorable than the next.
Be still, my beating heart.
Forget Johnny Depp, Captain Jack Sparrow has never looked so freakin cute.
Rumor is coming for Georgie, and TBH, I wouldn't run away from that face.
Easton is delivering all the feelings.
Paw-peye waiting for his "sweet pea" Olive Oyl.
Theodore is completely flawless as Queen Bey. I'd get into formation to see this photoshoot ASAP.
Bruno Mars and Cardi B Pug showing us how "Finesse" is done.
This handmade "Purple Rain" costume would make the late Prince proud.
Ruth Bark-er Ginsburg would like your attention.
These headless waiters would like to serve you with all the chills.
Eleven surrounded by boxes upon boxes of Eggo waffles.
These are just a few of the heartwarming submissions on offer, so I'd look through the three categories and cast your votes before the polling closes on Oct. 26. The winners will be announced on Oct. 29, and actress and rescue dog mom Olivia Munn will choose a grand prize awardee from the trio. In addition to all the great prizes I mentioned earlier, the last pup standing will also receive $1,000 in cash as well as a $1,000 donation to the dog charity of his or her choice.
Again, voting closes on Oct. 26, so cancel those meetings and dedicate some serious "you" time to looking at the most paw-some photos of dogs ever (sorry). After effects include smiling for the rest of the day and kicking off your weekend in the best way possible.