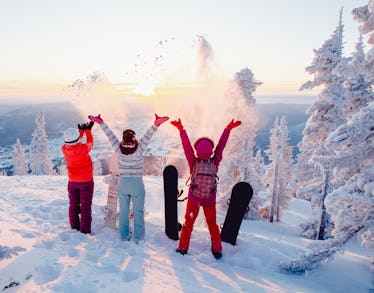 You & Your Friends Can Win A Private Mountain This Winter, So Say Goodbye To The Crowds
Calling all of my fellow snow babies. Jon Snow said it best on Game of Thrones: "Winter is coming." You're already daydreaming of festive fairy lights hung with care, mulled wine by the fireplace, and The Holiday set on replay in your apartment. It truly is the coziest time of year, and you have a Pinterest-worthy bucket list filled to the brim with wintery activities you plan on checking off. Your top priority? Hitting up the mountain for a weekend getaway with the crew, complete with a dope outfitted cabin. Thanks to VRBO's Win the Winter Mountain Sweepstakes, your wildest dreams could come true this winter.
Let's be honest: There's snow place like the slopes. From gliding through the fresh powder, to stopping for a warm sugary waffle (or two... or five) on the way down, you're all about that lift pass life. You're in your prime when you're roasting s'mores by the fire pits with your besties, and treating yourself to a much-deserved après ski at the end of a successful day sleighing the trails.
The only thing that's a major buzzkill on any day spent at the mountain is navigating your way through the crowds of skiers and snowboarders, and waiting in the never-ending lines to hop on the lifts. (Ugh, the struggle can be so real — might as well have yourself a hot chocolate while you wait.) But don't get your tinsel in a tangle quite yet.
Vacation rental site VRBO is hooking up one winner (and up to 19 of their friends) to a day of shredding up their very own private mountain.
Yes, you read that right — VRBO is teaming up with Eagle Point Resort in Beaver, Utah to give one person and their squad of favorite people the opportunity of a lifetime: To have the entire mountain to themselves for the day. In addition to (quite literally) being queens of Eagle Point Mountain, the prize package includes a three-night stay in a luxe cabin near the resort, private ski instructions, and a $5,000 travel stipend.
Let's talk about the winner's rad digs.
The lavish three-night accommodation comes with a fully-stocked kitchen, four bedrooms, three and a half bathrooms, pool and ping pong table, an outdoor hot tub (perfect for an end-of-day sunset toast), two living rooms, a spacious loft, breathtaking views, and much more. It's clear the sweepstakes winner is getting hooked up.
Imagine calling this winter wonderland escape home sweet home? (Because I sure can.)
I don't know about you, but I could get used to watching every sunrise and sunset from the comforts of that beautiful wrap-around porch (which has two levels in all of its grandeur, might I add). With panoramic views of endless glistening snowflakes on the pines and mountaintops, you'll never want to leave this paradise. Now, let's fire up the grill for dinner, shall we?
How do you enter VRBO's Win the Winter Mountain Sweepstakes?
If this sounds like a dream come true to you, all you have to do is fill out the online form as soon as possible, and cross your fingers you win. The sweepstakes runs today through Nov. 17. The lucky winner will be given the golden ticket to the private rental of Eagle Point Ski Resort for Tuesday, Feb. 19, 2019.