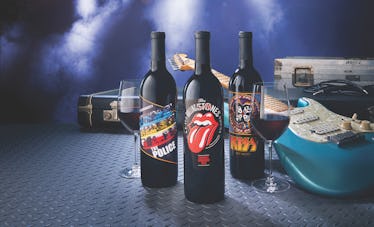 These Rock 'N' Roll-Themed Wine Bottles Are The Perfect Gifts For Music Lovers
Courtesy of Virgin Wines
By now, pretty much all of my friends and family members know that my two favorite things are red wine and music. I was raised around rock 'n' roll, and my go-to drink at the bar is a glass of merlot. With that being said, I know exactly what I want for the holidays this year. What is it, you ask? Oh, only a set of Virgin's rock 'n' roll-themed wine bottles, because they have my name written all over them. (Not really, but you get my point.) In all seriousness, Virgin Wines created a 12-pack of bottles that are inspired by classic rock bands, and each one of them comes with a suggested Spotify playlist to listen to while you sip. It's pretty much the best gift ever for anyone that loves music and wine (like me).
Before I dive into rock bands and Spotify playlists, let's talk about the actual wine bottles that are included in the set. The 12-pack of music-inspired wine bottles features three "Rock 'n' Roll Reds" including a Rolling Stones 50th Anniversary Cabernet Sauvignon, a "Synchronicity" red blend inspired by The Police, and a KISS Malbec. The remaining nine bottles can consist of reds, whites, or a combination of both (that part is up to you).
If you're into the idea of having a 12-pack of wine bottles that feature rock 'n' roll-inspired sips, you can buy it on Virgin Wine's website for only $79.99. To start the process, hit "Count Me In" on the company's official Wine & Music Pairings page, and choose which package you'd like. As I mentioned, you'll be able to pick between "Superstar REDS," "Crowd-Pleasing Whites," or "The Mega Mix." Just keep in mind that whichever combination you choose, you'll still get the three bottles of Rock 'n' Roll Reds with the set. After you're done choosing your go-to wine type, the website will bring you to the check-out page.
Before you know it, you'll be sipping on wine and listening to your favorite rock 'n' roll tunes.
If you're into the idea of owning music-inspired wine bottles but can't afford the entire package, don't fret. You can buy each bottle individually at an affordable cost. In order to do so, visit Virgin's Wine & Music Pairings page and scroll through the wine options. Once you find one you like, click on the "mix" link to learn more about it. When you're there, you can follow Virgin's steps to purchase the bottle by itself.
While you're scrolling through Virgin's Wine & Music Pairings, you might notice that each bottle comes with its own customized Spotify playlist. Each playlist is inspired by the wine bottle and type, which means you'll have an endless amount of tunes to enjoy while you drink. For instance, the playlist for the Rolling Stones 50th Anniversary Cabernet Sauvignon consists of Rolling Stones songs (obviously). However, the Seserello Red Blend playlist features an array of rock songs to compliment its "rock-worthy" roots.
Whether you opt for the entire 12-pack of rock 'n' roll-inspired wine bottles or purchase a few favorites, you'll be able to jam out while you sip. As always, drink responsibly — and keep rockin'.